Free Altova Online Training is Back!
Back by popular demand, Altova Online Training is now available in a brand new format. It's still free – only now it's offered in a convenient, self-service training model. Classes are available on-demand, and you no longer have to sign up or arrange your day around fixed class times. You can learn at your own pace, on your own schedule.
Each interactive training module contains guided instruction, tutorials, quizzes to test your learning, and resources for further study. You can complete each module in one sitting, or return to the class as often as you'd like to pick up where you left off.
The first new Altova Online Training class available is Introduction to MapForce, which is currently in BETA status.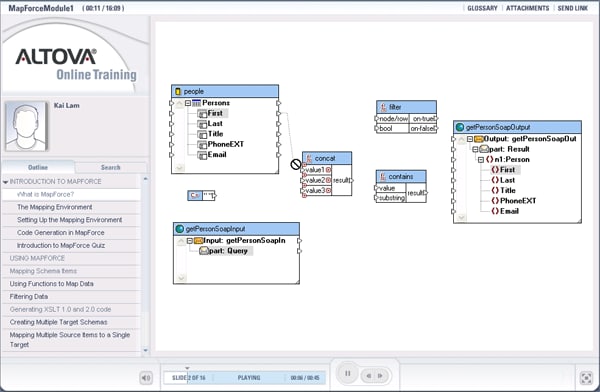 During the BETA period, we'll be relying on your feedback to help us improve future courses. Please share your comments and suggestions using the survey included in the Introduction to MapForce module, or post your comments on this blog.
We're excited that Altova Online Training is back, and we hope you find it helpful for learning more about Altova tools and technologies!