The Save As command enables the design to be saved: (i) as an SPS file or (ii) as a PXF file (Portable XML Form file). Clicking the command pops up the Save Design dialog (screenshot below). Select the required format and click OK.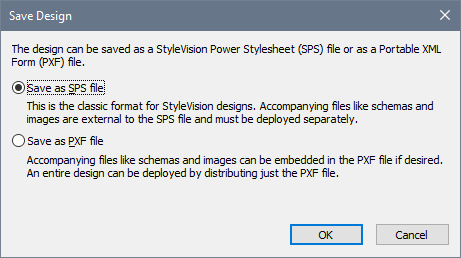 The SPS format is the standard Altova format for StyleVision designs. The PXF format is an Altova format that allows all files related to the design (schema files, XML files, images files, generated XSLT stylesheets, etc) to be embedded with the design. This format is very useful for transporting all the files required to open the design in Authentic View and/or to generate HTML output based on the design.
Save as SPS
Selecting the SPS option causes the familiar Save As dialog of Windows systems to pop up. Saving works exactly as described for the Save Design command. The advantage of using the Save As command is that files that have already been saved with a filename can be saved with another filename.