Document Properties and Styles
In an SPS design, you can split the output into multiple documents. Each of these documents can be assigned separate document properties and document styles. These are specified in the Document Properties and Document Styles tabs, respectively (see screenshot below), of the Properties dialog of the document's Initial Document Section. To access the Properties dialog, click the Edit Properties link in the title bar of the Initial Document Section of the document for which you wish to set these properties. Document properties and document styles apply to the entire output document.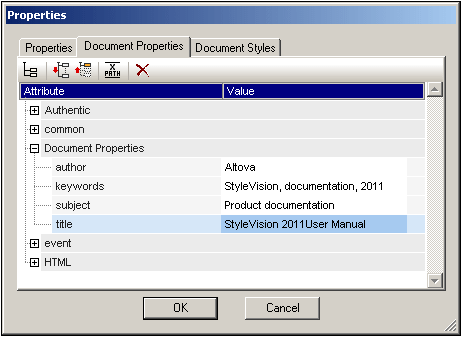 In the Document Properties tab, the Document Properties group of properties enable meta-information to be entered for the document. This meta-information will be saved to the respective output document and to the respective properties according to output format. For example, in the HTML output format, the properties are stored in the respective META tags of the HEAD element.
Document styles are described in the section Setting CSS Property Values.