Altova ServiceController (Windows Only)
Altova ServiceController (ServiceController for short) is an application for conveniently starting, stopping and configuring Altova services on Windows systems. ServiceController is installed with Altova LicenseServer and with Altova server products that are installed as services (DiffDog Server, FlowForce Server, Mobile Together Server, and RaptorXML(+XBRL) Server). ServiceController can be accessed via the system tray (screenshot below).
To specify that ServiceController starts automatically on logging in to the system, click the ServiceController icon in the system tray to display the ServiceController menu (screenshot below), and then toggle on the command Run Altova ServiceController at Startup. (This command is toggled on by default.) To exit ServiceController, click the ServiceController icon in the system tray and, in the menu that appears (see screenshot below), click Exit Altova ServiceController.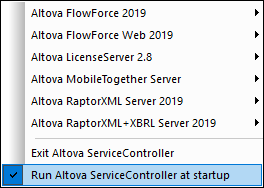 Starting and stopping Altova services
Each installed Altova service component (for example, the Altova RaptorXML Server service) will have an entry in the ServiceController menu (see screenshot above). An Altova service can be started or stopped via a command in its ServiceController sub-menu. Additionally, important administration tasks of individual services can be accessed via the ServiceController menu. For example, Altova LicenseServer service has a sub-menu in which you can choose to access LicenseServer's Configuration page via the Configure command.