Alert mails can be sent to designated email addresses when significant LicenseServer events occur. An example of a significant event is the following: Altova LicenseServer needs to be connected to the altova.com server (the Master LicenseServer). If the connection is broken for more than 24*5 hours (5 days), (your) LicenseServer will not allow licenses. As a result, work sessions with Altova products licensed by LicenseServer could be disrupted. In order to alert the administrator that a connection is broken, an alert mail can be sent to an email address. Note: LicenseServer contacts the Master LicenseServer at altova.com every 24 hours.
The Alert Mail settings (see screenshot below) define the configuration for sending alert mails to an administrator's email address.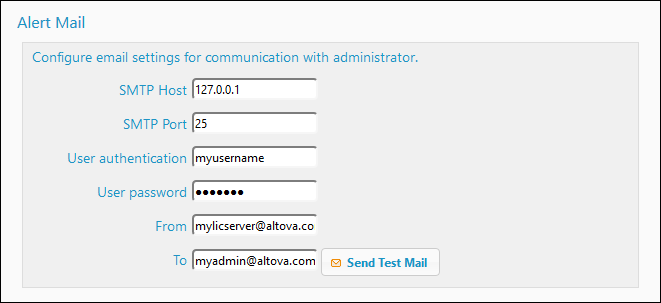 •SMTP Host and SMTP Port are the access details of the email server from which the email alert will be sent.
•User Authentication and User Password are the user's credentials for accessing the email server.
•The From field takes the address of the email account from which the email will be sent.
•The To field takes the recipient's email address.
•The Send a warning email option in the Miscellaneous pane also makes use of the email settings. (See the Miscellaneous pane for a description of this option.)
Click Save when done. After saving the Alert Mail settings, email alerts will be sent to the address specified whenever a significant event occurs, such as when connection to altova.com is lost. Note that such events are also recorded in the Messages tab, and can be looked up there.
Events that trigger alert mails
An alert mail is sent every time any of the following events occurs:
Licenses
•Live-update message from altova.com
•Expiration warning (60 days for all products)
Server state
•Connection to Altova lost
•Connection to Altova reestablished
•Upgrade required
•Shutdown
Client sessions (configurable via WebUI)
•Connection to client lost
•Connection to client reestablished
Failover LicenseServer
•Activated
•Deactivated
•Shutdown