| | |
| --- | --- |
| | Edit Assigned Licenses. Available in product listings. Displays the Edit Assigned Licenses dialog, in which new licenses can be assigned and already assigned licenses can be edited. |
| | Show Licenses. Appears in license listings. Switches to the License Pool tab and highlights the selected license. Details of the license can be read there. |
| | Unregister Product. The selected product (on the selected client machine) will be unregistered from LicenseServer. See Unregister Products and Client. To unregister a client and all its products, click Unregister client and all products at the top of the pane. |
To assign a license to a registered product in the (right-hand) Product Licensing pane (see screenshot below), click the Edit Assigned Licenses button of that product (see section above for icon).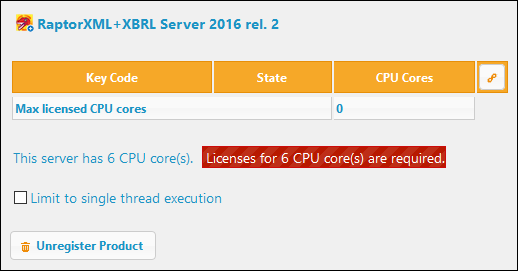 The Edit Assigned Licenses dialog (screenshot below) appears. The dialog lists all licenses for that product that are in the license pool. If a license has been assigned, then its check box at extreme left will be selected (as in the screenshot below). If the license is available, then its check box will be unselected.
Select the license/s you wish to assign, and then click Apply Changes. The license/s will be assigned to that product and displayed in the Product licensing tab of the Client Management tab (see screenshot below).
If an Altova server-product license for only one core is available in the license pool, a machine with multiple cores can be assigned this one-core license. In such a case, the machine will run that product on a single core. Processing will therefore be slower, because multi-threading (which is possible on multiple cores) will not be available. The product will be executed in single thread mode on that machine.
To assign a single-core license to a multiple-core machine, in LicenseServer, select the Limit to single thread execution check box for that product.