Request an Evaluation License
You can obtain a 30-day free evaluation license for each of a client's installed Altova server products that have been registered with LicenseServer. Click the Request Evaluation Licenses button at the top of the (right-hand) Product licensing pane (see screenshot below).
Note:

Evaluation licenses can be obtained via LicenseServer

for server products only

. For desktop products, an evaluation license is requested via the Software Activation dialog of your desktop product.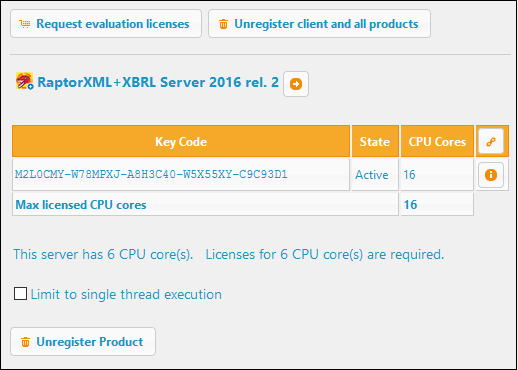 A dialog appears that contains a list of the Altova products (on that client machine) which have been registered with LicenseServer. Make sure that the products for which you want an evaluation license are checked, then fill in the registration fields, and send the request. You will receive an e-mail from Altova containing the 30-day evaluation license/s. For server products, the number of cores for which the license is valid will be exactly the number required by the product at the time the request is sent. Save the license/s to disk and upload them to the license pool.