A password policy defines the strength of passwords that use that policy. You can define your own password policies and apply different policies to different users. The Users and Roles | Password Policies tab (screenshot below) displays all defined password policies, enables you to create new policies, assign policies to users, and delete policies.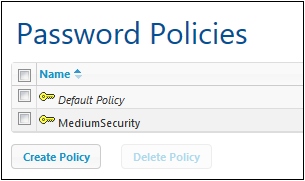 Note:

By default every new user is assigned the

default password policy

, which does not define any constraint and cannot be changed. If you want users to have stronger passwords than defined by the default policy, create a strong policy and assign this policy to individual users.