The SQL Editor is the area where you can display, edit, and execute SQL statements. It provides a Message window that displays success or error messages and warnings, and a Result window to display the query results, if applicable.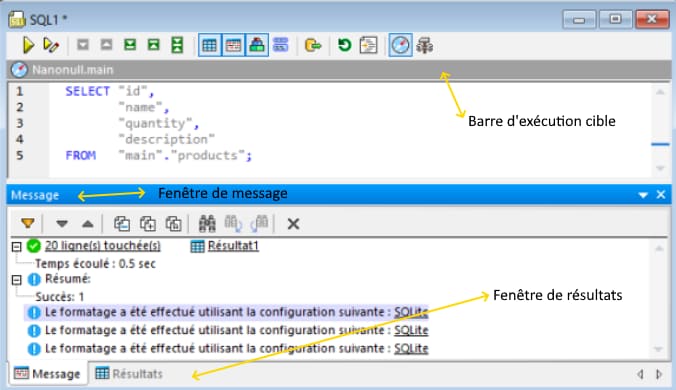 SQL Editor window
| | |
| --- | --- |
| Note: | A new SQL Editor window is automatically associated with the data source that is active in the Online Browser or Project Window. The active data source is displayed at all times in the Execution Target Bar. That is, all commands issued from SQL Editor will affect this particular data source only. If there are multiple data sources, the SQL Editor belongs to the one which was last clicked before you opened the SQL Editor. Any subsequent SQL Editor windows that you open will inherit the currently active data source. |
The Execution Target Bar (set to be visible by default) indicates at all times the database against which all statements in the SQL Editor will be executed. See also Execution Target Bar.
The SQL Editor window provides the following commands: