The Settings tab enables you to configure various aspects of the way MobileTogether Server functions. The settings are organized into a number of tabs; the Cache tab, which contains cache settings is shown in the screenshot below. If you wish to modify a setting, go to its tab, and modify the setting as required. Click the Save button at the bottom of the tab for the modified setting to take effect.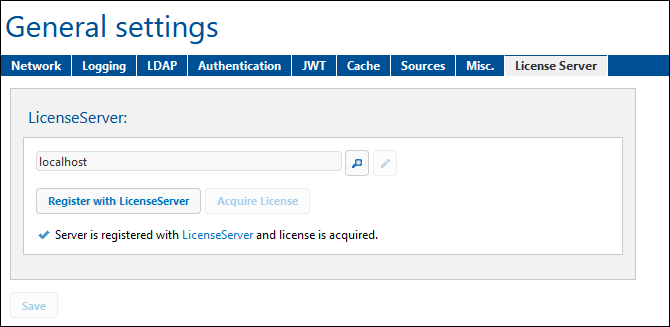 The subsections of this section describe the settings in each tab:
•Network: Settings for mobile client ports, administrator ports, and SSL certificates
•Logging: Logging settings
•LDAP: Settings for Directory service login
•Authentication: Settings to enable authentication of users coming from another MobileTogether Server; saves user a second MobileTogether Server login
•JWT: JSON Web Token (JWT) authentication settings
•Cache: cache settings
•Misc: Settings for server statistics, server simulations, workflow execution on server, session timeouts, backups on upgrade, and email sending,
•Sources: Server-side data folder location, and management of server-side database connections
•LicenseServer: Registration and licensing with Altova LicenseServer
•Non-WebUI Settings: Other settings that can be edited in the MobileTogether Server configuration file.