Start Altova CbC Reporting Solution
After Altova CbC Reporting Solution has been set up, you can start it by opening an Internet browser (such as Internet Explorer or Firefox) and entering the URL of the solution in the browser's address bar.
Solution URL
The solution's URL is: http://<server-ip-address>:8083/run?d=/<server-path-to-solution>. See screenshot below.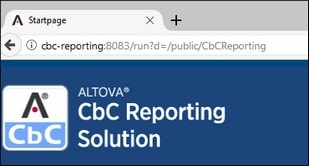 Examples
http://cbc-reporting:8083/run?d=/cbc_reporting/CbCReporting
http://localhost:8083/run?d=/public/CbCReporting
If the solution does not start, then either the URL is incorrect or the solution has not been set up correctly. See the CbC Reporting Solution Installation Guide or contact your administrator
Solution login
When the solution is accessed, you will be prompted for your login data. The defaults are:
Username: root
Password: root
If the defaults do not work, then your administrator has set up alternative user login authentication. In this case, contact your administrator.