The StyleVision GUI (illustration below, in which not all sidebars are shown) consists of the following parts:
•A menu bar. Click on a menu to display the items in that menu. All menus and their items are described in the User Reference section. The menu bar also contains the Minimize, Restore, and Close Active Document buttons.
•A toolbar area. The various toolbars and the command shortcuts in each toolbar are described in the User Reference section.
•A tabbed Main Window, which displays one or more open SPS documents at a time. In this window, you can edit the design of the SPS, edit the content of Authentic View (in the Authentic eForm tab), and preview the XSLT stylesheets and output.
•The Design Sidebars—the Design Overview, Schema Tree, Design Tree, Style Repository, Styles, Properties, and Project windows—which can be docked within the application GUI or made to float on the screen.
•A status bar, which displays application status information. If you are using the 64-bit version of StyleVision, this is indicated in the status bar with the suffix (x64) after the application name. There is no suffix for the 32-bit version.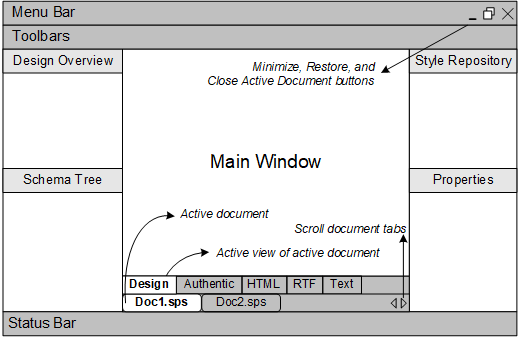 The Main Window and Design sidebars are described in more detail in the sub-sections of this section.
Note: The menu bar and toolbars can be moved by dragging their handles to the required location.