The solution's main page consists of panes that provide entry points to sub-pages (see screenshot below):
•A reporting country pane, which selects the country to which the CbC Report will be sent and the XML Schema to use for the report. See Reporting Country for information.
•A company details page, which is accessed from the Reporting Entity pane.
•A new-report creation page, in which data for the CbC report is entered. Creating a new report is a two-step process. In the first step, you enter the fiscal year details and the language of the report, neither of which can be changed subsequently. In the second step, the report's main page is displayed. On this page, you can enter the Report Data and any Additional Information. After you have saved the report, you can view, edit, or submit it via the report management page (see below).
•Instead of entering data in the solution, you can import the data from Excel files.
•A report management page (View Existing Reports), which provides access to all the reports you have created with the solution. You can delete reports, edit them, and generate the final XML report for submission.
•A page from which you can create correction reports
•A page from which you can import a CbC message that has been generated in another system.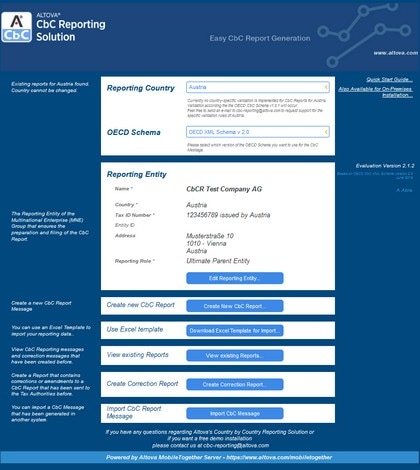 These sub-pages are where you enter the details of your CbC report. They are explained in this Quick Start.