In order to run the virtual machine (VM) that contains the GDPR Compliance Database, you will need to install VMware Workstation Player. You can download the latest VMware Workstation Player from the Downloads page of the VMware.com website.
Install VMware Workstation Player on any suitable machine on your network. On opening the player, you will see a screen like the one shown in the screenshot below.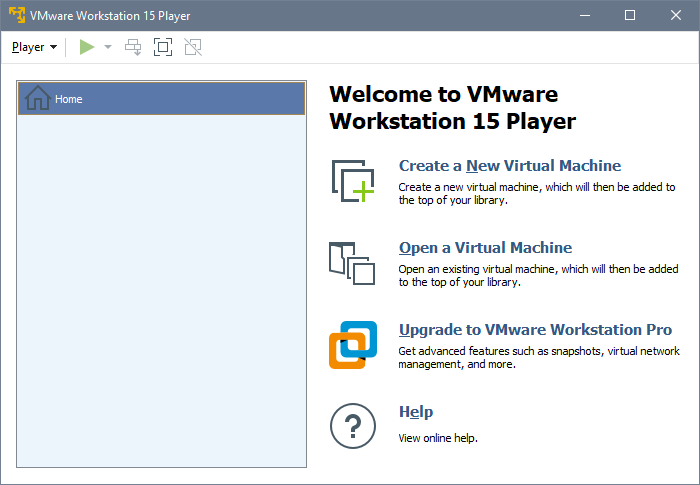 In the player, you can create new VMs and open existing VMs. Any VM you create or open is listed in the player library, which is shown in the left pane of the player window (see screenshot above). After you download the VM that contains Altova's GDPR Compliance Database, open the GDPR VM in the player. The VM will be added to your player library.
Location of the VMware Workstation Player
After the GDPR VM has been opened and is running in the player, the compliance database and its user management app that are contained in the VM can be accessed by typing their respective URLs in a browser. Usage scenarios vary anywhere between the two listed below:
•A single user accesses the player, manages the player's VM library, and works with the compliance database via a web browser.
•An administrator manages the VM library. Multiple users work with the compliance database via web browsers, but they are not involved in the management of the VM library.
Depending upon the working environment, suitable access and security permissions must be set for the location where the VMware Workstation Player is located.