XBRL Solutions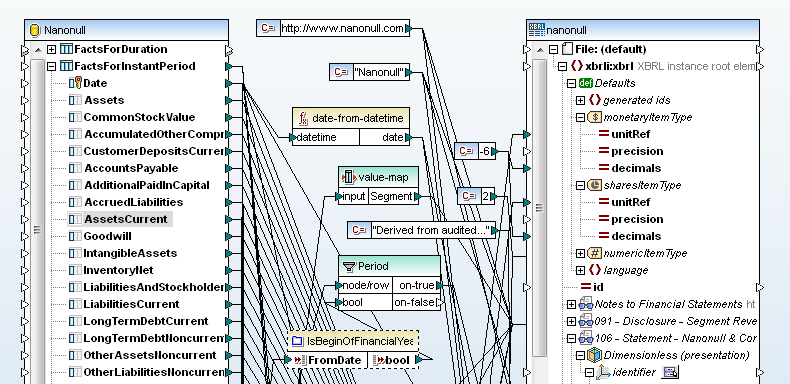 Altova has extended the reach of its XML development tools with support for XBRL, giving organizations of all types the ability to comply with current and future regulations using the affordable tools that they are already comfortable with.
Altova provides a complete solution for end-to-end XBRL development and automation. The MissionKit development tool suite supports extending industry-standard XBRL taxonomies, mapping back-end SQL database data to the taxonomy to create a valid XBRL instance for filing, and processing and publishing that same data in Web or print output formats.
RaptorXML Server is a high-performance XBRL validation server optimized for today's high-demand data processing applications.
What is XBRL?
Extensible Business Reporting Language (XBRL) is an XML-based vocabulary for electronic transmission of business and financial data. Currently in version 2.1, XBRL is an open standard that is maintained by XBRL International, a global non-profit consortium of over 550 major companies, organizations, and government agencies. A mandate from the United States Securities and Exchange Commission (SEC) and official support from European Parliament and other governing bodies worldwide have secured XBRL's future as the official standard for financial reporting.
Drawing upon the power and flexibility of the XML family of standards, XBRL utilizes familiar W3C specifications such as XML Namespaces, XML Schema, XPath, and XLink to offer a growing set of taxonomies for defining semantics, syntax, and relationships for single source financial reporting, helping to overcome data redundancy and quality issues in addition to offering instantaneous delivery to a variety of different output formats. XBRL incorporates these technologies to describe a taxonomy document and an instance document, which together comprise a business report.
Intelligent XML editor with advanced support for XBRL
Support for XBRL 2.1, XBRL Dimensions 1.0, XBRL Formula 1.0, XBRL Table Linkbase 1.0, and Extensible Enumerations 1.0
Visual tools, intelligent entry helpers, and wizards for exploring, understanding, and editing XBRL
Graphical XBRL Taxonomy editor for extending and editing taxonomies
XBRL Taxonomy Wizard for extending US-GAAP or IFRS
Comprehensive XBRL taxonomy documentation generation
Lightning-fast XBRL instance validation powered by RaptorXML
Any-to-any, graphical data mapping tool
Map XBRL between databases, Excel, Web services, and more
Extract financial data from accounting systems for reporting and disclosure
Map XBRL to relational databases, Excel, or other formats for financial analysis
Instant data conversion or royalty-free code generation in Java, C#, or C++
Report creation via StyleVision integration
Hight-performance automation via MapForce Server
Visual report and form design tool for XBRL rendering
Support for XBRL, as well as XML and SQL database, input sources
Rendering XBRL reports in HTML, PDF, Word, and RTF
XBRL Table Wizard and XBRL Chart Wizard simplify design process
Autogeneration of XSLT and XSL:FO from graphical design
Reusable templates for rendering financial data eliminate re-keying
Advanced layout and data processing options, rich chart and graph creation, and more
Automation via StyleVision Server
Hyper-fast XBRL validation server
Validate large amounts of XBRL data cost-effectively
Highly scalable code for parallel computing
Ultra-low memory footprint
Cross-platform support on Windows, Linux, & Mac OS X
Support for:

XBRL 2.1
XBRL Dimensions 1.0
Formula 1.0
Table Linkbase 1.0
Functions Registry 1.0
Generic Links 1.0
And others

FlowForce Server for managing automation
Altova Online Training provides comprehensive XBRL training for both technical and financial professionals. Training is delivered on-demand and is 100% free of charge.
The Altova XBRL Whitepaper provides important educational material for technical and accounting professionals (PDF 3 MB).