Entry Helpers (Grid View)
For XML documents in Grid View, there are three entry helpers: Siblings, Children, and Values. When a cell is selected in Grid View, context-sensitive items appear in each entry helper. What appears depends on the document structure and node constraints defined in the schema that has been assigned to the XML document.
Siblings and Children entry helpers
The Siblings and Children entry helpers will contain, respectively, available sibling and children nodes of the node selected in Grid View. See the screenshot of the Sibling entry helper below. Nodes that have already been added are shown in gray, while those that have not yet been added are show in black. Mandatory elements are indicated with an exclamation mark. In the screenshot below, all sibling nodes, except the mandatory State element, have already been added to the document.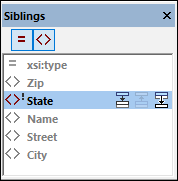 When you select an item in the Siblings or Children entry helpers, icons appear on the right hand side (see screenshot above) that enable you, respectively, to insert the item immediately after the node selected in Grid View, immediately before it, or (appended) after all its siblings.
Values entry helper
When a node is selected in Grid View that can take a value and if that node has a set of possible values defined for it in the schema, these values are listed in the Values entry helper. Double-click any of these values to enter it.