When you right-click a component in JSON Grid View, a context menu (screenshot below) appears that provides commands for modifying the display and editing the document. The context menu can also be accessed by pressing the Menu key. The commands of the context menu are described below.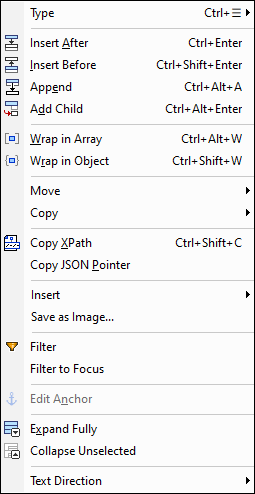 Hovering over the Type command causes a sub-menu to be displayed in which you can select the type of the component. You can also access the Type sub-menu via the shortcut Ctrl+Menu key.
The Insert and Append commands add an item at the same level. The new item is added, respectively, before the selected item (Insert) and as the last sibling of the selected item (Append). The Add Child command appends a new item as a child. If one or more child items already exist, then the type of the new item will be the same as that of the last child. If no child exists, then the new item will be an empty key:value pair. For example, if the selected item is an array, with object children, then the new child item will be appended as the last child object.
The selected part of the table can be wrapped in either an array or an object.
This command is enabled if the selected component or any of its descendants is collapsed. It expands the component and all descendant components.
Switches between Table Display and List Display.
These commands can be used to sort the components of a table according to the contents of the selected table column. Sorting can also be applied to a selection of table rows if the rows are contiguous.
These commands can be used on both components and content. If a copied component is pasted, then it will be inserted at the current selection.
Re-evaluates all the XQuery formulas in the document.
Open the JSON Grid View Options dialog, in which you can specify the default behavior of JSON Grid View features.