The XBRL Validation tab (screenshot below) offers options for XBRL instance validation.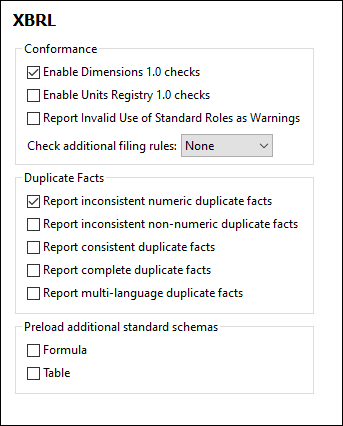 The validation options that you can specify are:
•Checks for conformance with Dimensions 1.0 and Units Registry 1.0.
•Reports of calculations that involve (i) inconsistencies when summation items are calculated, (i) assertions that are unsatisfied.
•Non-consideration of duplicates (complete duplicates and consistent duplicates) that are involved in calculations. Where a fact is duplicated, the most precise fact is used, while the others are ignored.
•Reports of duplicates. For more information about how duplicates are classified, see the Handling Duplicate Facts in XBRL and Inline XBRL 1.0 specification.