The View section enables you to customize the XML documents presentation in XMLSpy.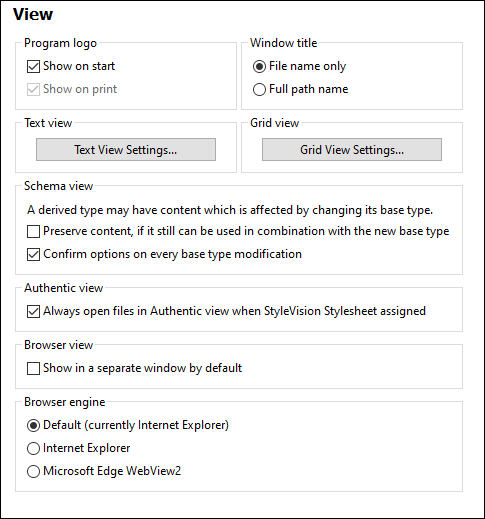 XML elements in Grid View can be collapsed into a single line displaying the element name. When collapsed, the element's attributes can also be displayed in that line. If the Show Attribute Previews option is checked, attributes are displayed in gray with collapsed elements. Otherwise, attributes are not displayed with the collapsed element. Columns in the grid can be set to adjust automatically to optimal widths. Additionally, the maximum optimal width and cell height can be limited. If the content of a cell is more than can fit in a cell, this is indicated by an ellipsis.
When you select Edit | Pretty-Print XML Text in Text View or switch from another view to Text View, the XML document will be "pretty-printed". The pretty-printing will be with or without indentation according to whether the Use Indentation option in this dialog is checked or not. The amount of indentation can be specified in the Tabs pane of the Text View Settings dialog.
You can turn off the splash screen on program startup to speed up the application. Also, if you have a purchased license (as opposed to, say, a trial license), you will have the option of turning off the program logo, copyright notice, and registration details when printing a document from XMLSpy.
The window title for each document window can contain either the file name only or the full path name.
Authentic View
XML files based on a StyleVision Power Stylesheet are automatically opened in the Authentic View when this option is active.
You can choose to see the browser view in a separate window, enabling side-by-side placement of the edit and browser views.
An XML Schema datatype can be derived from another datatype. For example, a datatype for E-mail elements can be derived from a base datatype of xs:string (for example, by restricting the xs:string datatype to a specific set of characters). If the base datatype is subsequently changed, you can set the following options:
•Preserve content: If the definitions used to define the derived type can be used with the new base type, checking this option will automatically preserve the definitions.
•Confirm on every modification: After changing the base type, a dialog (see screenshot below) will pop up asking whether the old definitions should be preserved and used with the new base type.
After making the settings, click OK to finish.