Reporting Miscellaneous Contracts
In a WIP report, contracts can have an identifier (see the "Contract Identifier" column) or be reported as miscellaneous contracts. To report contracts as miscellaneous, do one of the following:
•Do not enter a value in the "Contract Identifier" column. Instead, leave the cell empty.
•Enter either "n/a" or "misc" in the Contract Identifier column.
Any contracts where the conditions above are true will be reported as miscellaneous in the generated XBRL instance.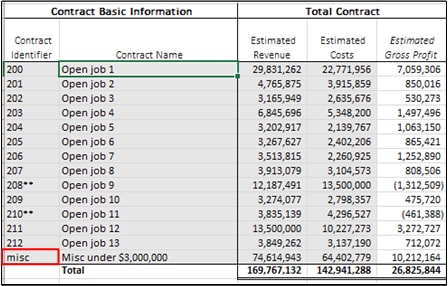 Note:

Miscellaneous contracts should not contain any values in the Contract Basic Information section of the WIP report, except "Contract Identifier" and "Contract Name". Any values in these columns will raise validation warnings and will not be exported when you click the

Export

button.