Using a Connection from Global Resources
Altova Global Resources are portable references to files, folders, and databases. If you have already configured a database connection to be available as a Global Resource, you can reuse the connection at any time (even across different Altova applications).
To use a database connection from Global Resources:
1.Start the database connection wizard.
2.Click Global Resources. Any database connections previously configured as global resources are listed.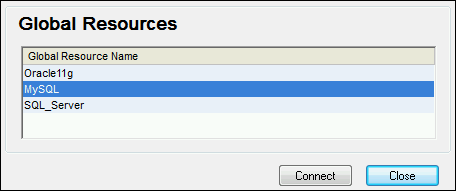 3.Select the database connection record, and click Connect.
| | |
| --- | --- |
| Tip: | To get additional information about each global resource, move the mouse cursor over the global resource. |