SQL Editor General Settings
You can change the general settings applicable to the SQL Editor as follows:
1.Click the DB Query tab.
2.At the top of the pane, click Options

, and then click SQL Editor.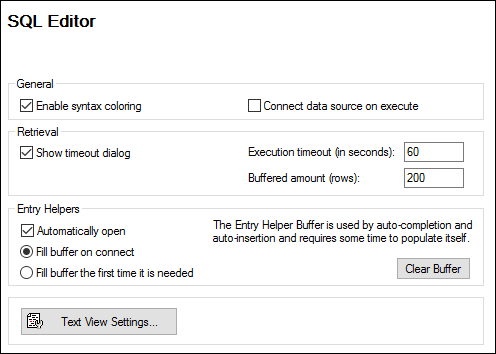 General
Syntax coloring emphasizes different elements of SQL syntax using different colors.
Activate the Connect datasource on execute check box to connect to the corresponding data source automatically whenever a SQL statement is executed and its data source is not connected.
Retrieval
Specify the maximum amount of time permissible for SQL execution (Execution timeout) in seconds.
Activating the Show timeout dialog check box allows you to change the time-out settings when the permissible execution period is exceeded.
Entry Helper Buffer
To enable auto-completion suggestions as you start typing SQL statements, select the Automatically open check box (see also Auto-Completion).
The entry helper buffer for auto-completion can be filled either when you connect to a data source or when it is used for the first time. Note that filling the buffer may take some time. Use the Clear Buffer button to reset the buffer.
Text View Settings
Allows you to define the specific Text view settings: Margins, Tabs, Visual aids, as well as showing you the Text view navigation hotkeys.