Generating an X12 997 Functional Acknowledgment
The X12 997 (Functional Acknowledgment) reports the status of the EDI interchange. All errors encountered during processing of the document are reported in it. MapForce can automatically generate an X12 997 component in the main mapping area, and automatically create the necessary connectors.
To generate the EDI 997 Functional Acknowledgment:
1.On the Insert menu, click EDI, and add the X12 component to the mapping. When prompted to select as instance file, browse for the file for which you want to create the X12 997 acknowledgement.
2.Right-click the title bar of the EDI component and select Create Mapping to EDI X12 997 (note this command is enabled only for X12 components).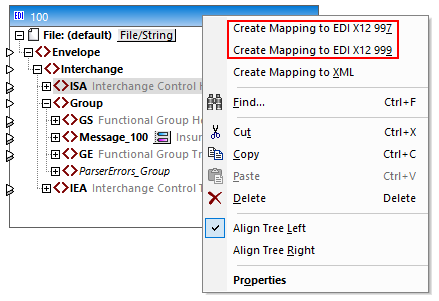 This creates an EDI 997 mapping component and automatically connects the items needed to generate the X12 997 acknowledgment. For an example, see the X12_To_XML_Order.mfd mapping design file available in the <Documents>\Altova\MapForce2023\MapForceExamples\ folder. To see the acknowledgment file generated by this mapping, click the Preview (

) button of the EDI 997 component, and then click the Output tab.
To save the X12 997 Acknowledgement file:
•Click the Output tab, and then click the Save generated output (
) toolbar button. If you intend to generate program code from the mapping, enter a file name in the "Output EDI File" field of the Component Settings dialog box (see EDI Component Settings).