After you create a user-defined function, you can call it either from the same mapping where you created it, or from any other MapForce mapping.
To call a user-defined function from the same mapping:
1.Find the function in the Libraries window. You can find the function under the library that you specified when you created the function. If you created the function in the default "user" library, look for the function in the "user" library. To quickly find the function by its name, start typing the name in the Libraries window.
2.Drag the function from the Libraries window into the main mapping. You can now connect to it all the required parameters. The result of the function is provided by its output parameter (or several parameters, if applicable).
To import user-defined functions from another mapping:
1.Click the Add/Remove Libraries button at the bottom of the Libraries window. The Manage Libraries window opens (see screenshot below).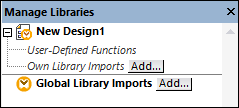 2.To import functions as a local library (in the scope of the current document only), click Add under the current mapping name. To import functions as a global library (at program level), click Add next to Global Library Imports. When you import a library locally, you can set the path of the library file to be relative to the mapping file. With globally imported libraries, the path of the imported library is always absolute.
3.Browse for the mapping file (.mfd) that contains the user-defined function(s), and click Open. A message box appears informing you that a new library has been added, and the new library appears in the Libraries window.
You can now use any of the imported functions in the current mapping by dragging them from the Libraries window onto the mapping, see also Add a Function to the Mapping.
The Libraries window displays built-in functions and any user-defined functions in the current .mfd mapping file. If you import other .mfd files as libraries into the current mapping as shown above, it will display user-defined functions from any imported files as well. Note that, if you used the same library name across multiple *.mfd files, functions from all available sources appear under the same library name in the Libraries window.
For further information about viewing and organizing function libraries, see Managing Function Libraries.