In addition to creating FlowForce Server users, you can import domain user accounts and groups from Windows Active Directory or an LDAP Directory Service provider.
When the Allow any domain users to log in setting is enabled in the Directory Service settings, users from configured domains are able to log on to FlowForce Server even if you have not explicitly imported their accounts into the FlowForce Server database. To ensure that domain users log on to FlowForce server only if their account has been explicitly imported by an administrator, clear the Allow any domain users to log in check box, and import the domain users as shown below.
| | |
| --- | --- |
| Note: | The local machine accounts are not part of Active Directory, so they cannot be imported into FlowForce Server. |
To import domain user accounts into FlowForce Server:
1.Under Settings, select the Enable check box under "Directory Services" and configure your preferred Directory Service provider as described in Changing the Directory Service Settings.
2.Under Administration, click Users.
3.Click Import Domain Users.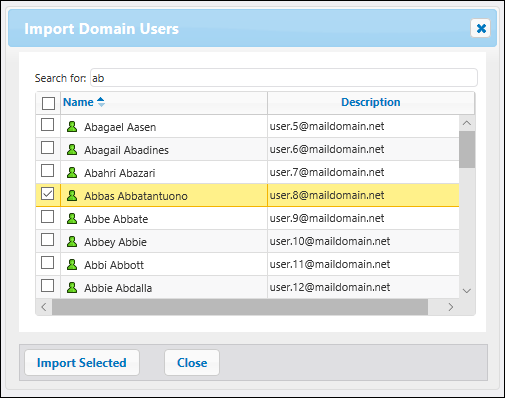 4.If applicable, select the domain of choice from the Context drop-down list.
5.In the Search for text box, start typing the name of the user account you want to import. Partial searches are valid, so, for example, if you enter a value such as "ad", the accounts "Administrators", "Admanager", and "Admin" are retrieved from the LDAP server or Active Directory and shown on the webpage dialog. In case of Active Directory, FlowForce Server uses the Ambiguous Name Resolution (ANR) search algorithm that allows you to specify complex search conditions in a single clause. For example, you can retrieve the account of a person named Jim Smith by typing "ji sm". Refer to Microsoft documentation for further information about Ambiguous Name Resolution in Active Directory.
6.Select the check box next to records that are to be imported, and then click Import Selected. Be patient while records are being retrieved from the Active Directory. Waiting time increases if the domain is not local.
To import domain groups into FlowForce Server:
1.Under Administration, click Roles.
2.Click Import Domain Roles.
3.Follow the steps 4-6 above.
See also