XBRL Support Added to Altova MissionKit 2009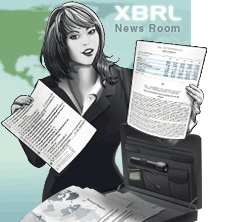 Earlier this week we blogged about the release of Version 2009 of Altova MissionKit, which includes the complete Altova product line. One of the major themes in this latest release is comprehensive support for XBRL across multiple Altova MissionKit tools, so lets look into XBRL itself and the new functionality in more detail.
The eXtensible Business Reporting Language (XBRL) is an XML-based vocabulary for electronic transmission of business and financial data. Currently in version 2.1, XBRL is an open standard that is maintained by XBRL International, a global non-profit consortium of over 550 major companies, organizations, and government agencies. XBRL was developed to facilitate business intelligence (BI) automation by enabling machine-to-machine communication and data processing for financial information with an eye towards cost reduction through the elimination of time consuming and error-prone human interaction. Official support from European Parliament and a mandate the United States Securities and Exchange Commission (SEC) has all but secured XBRL's future as the official standard for financial reporting. You can learn a lot more about the nuts and bolts of XBRL in the XBRL white paper written by Altova's Technical Marketing Manager, Liz Andrews.
All of the power and functionality that XBRL brings to financial data is useless without XBRL-conformant tools to interpret and process this data. In fact, understanding the importance of tools for XBRL, the XBRL recommendation writes software vendors into its abstract:
XBRL allows software vendors, programmers, intermediaries in the preparation and distribution process and end users who adopt it as a specification to enhance the creation, exchange, and comparison of business reporting information.
As such, XBRL development and data integration can be supported in a variety of different ways. The Altova MissionKit 2009 provides comprehensive support for working with XBRL, from validation and editing, to transformation and rendering, in multiple tools: XMLSpy 2009 – XBRL validator and XBRL taxonomy editor. When you need to ensure that your XBRL filing documents are valid and compliant, XMLSpy can be used to to validate an XBRL instance file against its corresponding taxonomy. If you need to extend a standard taxonomy to meet your organization's filing needs, the graphical XBRL taxonomy editor in XMLSpy gives you a graphical model with tabs that organize different types of taxonomy elements, wizards, and entry helpers, all of which guide data input based on the structural information provided in the XBRL instance and base taxonomies.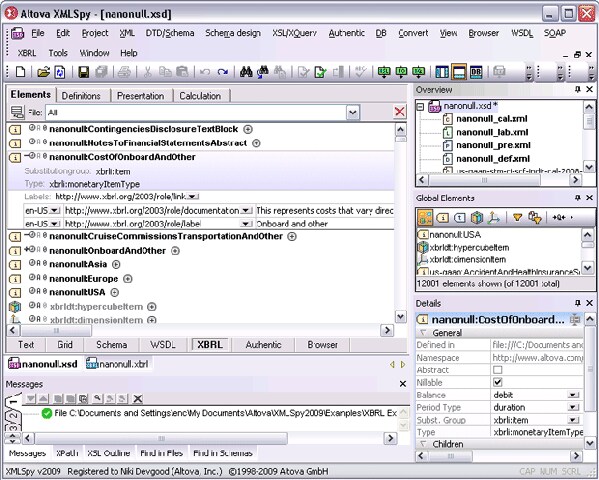 MapForce 2009 – XBRL exchange and data integration tool. When you need to extract financial data from back end systems and transform it into compliant XBRL filings, MapForce makes it easy with drag-and-drop, graphical data mapping and instant conversion. MapForce allows bi-directional data mapping between XBRL and databases, flat files, Excel 2007, XML, and Web services. Once your mapping project is defined, you can utilize it to automate quarterly and annual XBRL filing generation by transforming data with the MapForce UI, command line, or auto-generated, royalty free application code. This makes public financial data submission a repeatable and highly manageable process, allowing organizations to produce valid XBRL reports as required based on the variable data stored in accounting system fields – without having to define new mappings every quarter.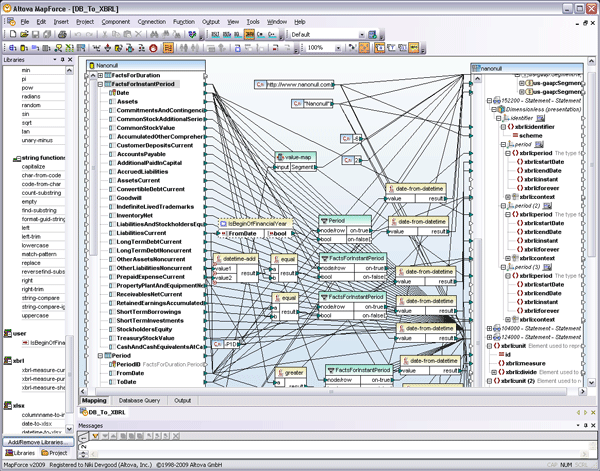 If you need to aggregate XBRL filings from different time periods or different organizations in your back end systems for analysis, MapForce lets you map the XBRL data to databases, flat files, XML – even Web services. Mapping data directly from its source format removes the need for re-keying and potential errors. Together, MapForce and XBRL enable the automation of the multi-dimensional financial analysis that organizations and stakeholders use to evaluate market, company, and industry performance on a regular basis. StyleVision 2009 – XBRL rendering tool. Once data is in XBRL format, and it's time to render it for consumption on the Web or in printed materials, StyleVision lets you create a straightforward XBRL report to output the data in multiple formats. Simply drag and drop a taxonomy financial statement onto the design pane as an XBRL table, and then use StyleVision's graphical interface to format stylesheets for simultaneous output in HTML, RTF, PDF, and Word 2007 (OOXML). The XBRL Table Wizard makes it easy to customize the table structure and specify the concepts to include in the report. In the case of the US-GAAP taxonomy, which provides, in addition to the hierarchical organization in its presentation linkbase, some best practices information on how to structure XBRL instances, you can simply select US-GAAP mode to have StyleVision automatically output the data according to this information.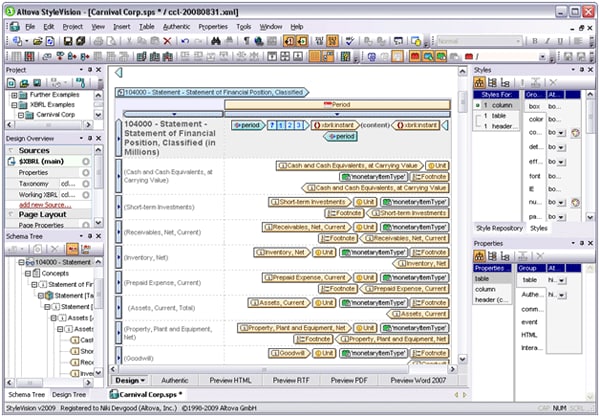 To try this powerful XBRL functionality for yourself, download a free, fully functional 30-day trial of the Altova MissionKit 2009, and please let us know what you think by commenting on this blog or in the Altova Discussion Forum.