Voting is Open in the Developer.com POY Awards
The US presidential election might be over, but your votes are still needed! Altova DatabaseSpy and Altova XMLSpy are finalists in the 2009 Developer.com Product of the Year Awards. We'd like to ask for your vote to help show your support for Altova tools.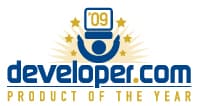 Please cast your vote for Altova DatabaseSpy in the "Database Tool or Add-in" category and Altova XMLSpy in the ".NET Tool or Add-in" category.The polls close soon, so please vote today. As always, we thank you for your support!