Drive VDA EDI Conversion and Transformation with MapForce
EDI (electronic data interchange) messages are used in a variety of industries for transmitting business information such as invoices, shipping notices, and purchase orders—which were traditionally recorded on paper—electronically. EDI transactions are structured according to standards that describe the format of each message. Adherence to a standard format enables the messages to be transmitted electronically between the computer systems of trading partners without human interaction.
Different industries take advantage of specialized EDI formats that are relevant to their business, and one such popular format is VDA EDI, which is used by the German automotive industry.
To work with VDA messages efficiently, companies often need to transform them to other formats, for instance, for storage in a backend database, or convert them to other EDI message formats for compatibility among systems. Altova MapForce makes this easy, with support for VDA as well as several other popular EDI standards. Let's see how it works.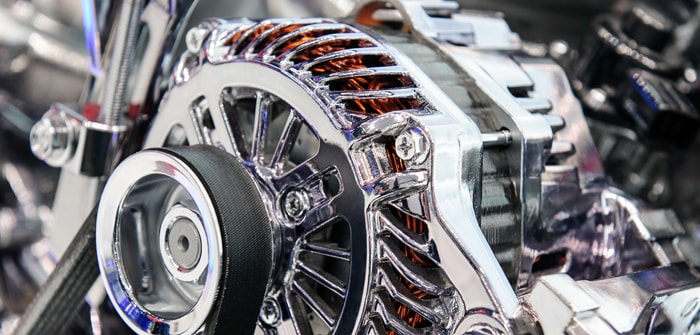 What is VDA EDI?
VDA stands for Verband der Automobilindustrie, which is the Association of the German Automotive Industry. The VDA consists of more than 620 companies involved in production for the German automotive industry, which one of the largest employers and producers of autos in the world. VDA members include car manufacturers like BMW, Mercedes-Benz, and Volkswagen, as well as automobile component suppliers.
In an effort to streamline business processes and increase efficiency at all stages of the automotive supply chain, the VDA began developing EDI standards for planning, distribution, and invoicing in 1977. This was well before the UN created EDIFACT, which would become the internationally approved standard structure for exchanging information among partners.
VDA EDI messages represent different types of electronic documents, such as orders, delivery notes, invoices, and transport notifications. The use of VDA EDI and EDI tools successfully enabled the automated exchange of information between manufacturers and suppliers, reducing the need for manual data entry and increasing the speed and accuracy of business transactions.
Given the pervasive use of VDA EDI messages through the decades, the format has become an industry standard. Its use persists, though the VDA has ceased maintaining the standard and lists it as deprecated. While more modern EDI formats like EDIFACT and ODETTE have emerged and have been adopted by verticals including the auto industry, use of legacy VDA EDI transactions is still prevalent throughout Europe.
Transforming and Converting VDA EDI Transactions
Companies that still use legacy VDA EDI often need to transform data in transactions to other formats, either for integration with business systems or to map it to more modern EDI message formats. In response to customer requests, Altova added support for the most popular VDA EDI messages to MapForce. This no-code data integration tool makes it easy to convert and transform EDI data to any other format.
Users can drag and drop to map between VDA EDI transactions and other EDI formats like ODETTE and EDIFACT, or map message data to/from databases as well as XML, JSON, Excel, and other popular formats.
MapForce (version 2023r2 and higher) supports the most commonly used VDA EDI transactions:
VDA 4905 – Global Delivery Call-off
VDA 4907 – Remittance Advice
VDA 4908 – Credit Advice
VDA 4913 – Global Production Dispatch Advice
VDA 4916 – Global Delivery Schedule Synchronous to Production
VDA 4921 – Shipment Data Advice
When you insert a VDA message as the source or target data mapping component in MapForce…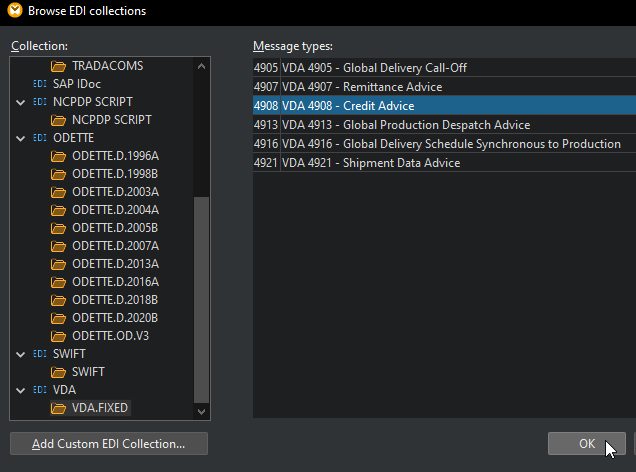 …its structure is represented visually.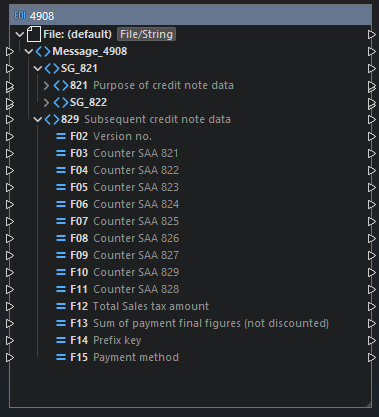 This makes it easy to drag and drop to associate fields between the source and target component(s). A comprehensive library of data processing filters and functions is available for transforming source data as needed to suit the target data format. In the mapping below, a VDA EDI message is mapped to the EDIFACT Invoice message, with constants and functions transforming the data as required to conform to the target data structure.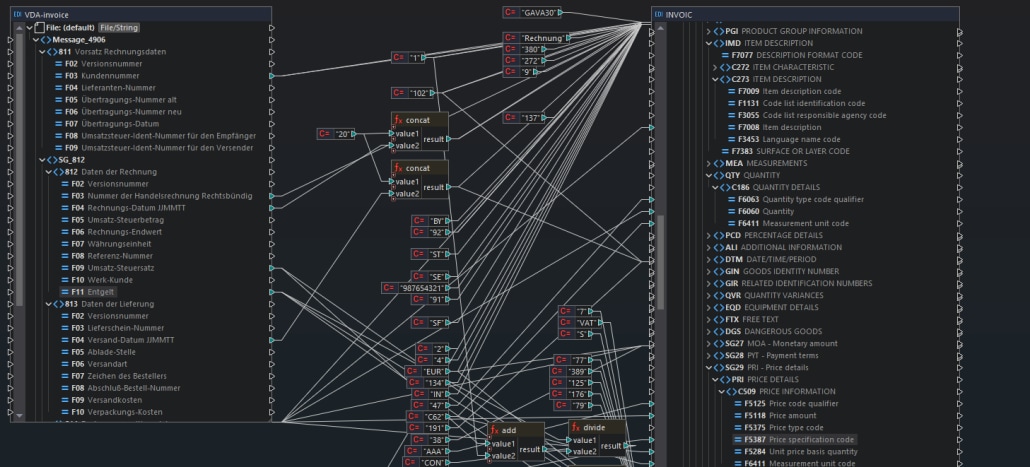 After you define the mapping, you can click the Output tab to view the transformed data, which in this case is an EDIFACT message.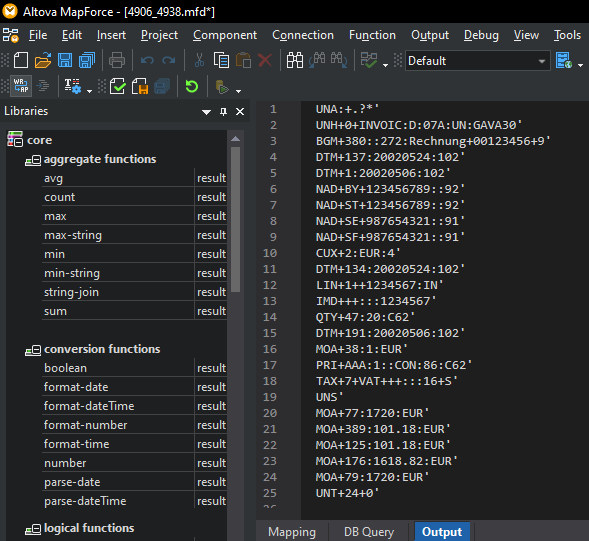 You can also automate the transformation process for recurrent transactions by uploading the finished mapping project to MapForce Server.
VDA Data Integration – Next Steps
To get started working with VDA EDI messages in MapForce, download a free, 30-day trial. Then, download and install the free VDA EDI configuration files.