Solvency II XBRL without the Headache
Solvency II regulations in the European Union require periodic reports to be submitted in XBRL format by companies in the insurance industry. This can present a considerable challenge to workers unfamiliar with technical XBRL syntax.
Altova created an easy way to take data directly from Excel to generate reports based on the Solvency II XBRL taxonomy, completely shielding end users from the complexity of XBRL syntax.
Let's take a look at what the Solvency II regulations mean to impacted companies and how the Altova Solvency II add-in for Excel makes it easy to generate valid reports for filing.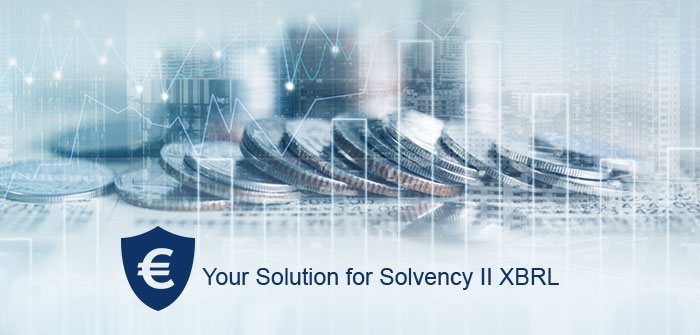 What is Solvency II?
Solvency II is a set of guidelines and reporting regulations from EIOPA (the European Insurance and Occupational Pensions Authority) for insurance and reinsurance companies throughout the EU. The goal of the initiative is to protect consumers, and the stability of the system as a whole, by regulating the amount of capital that EU insurance companies must hold to reduce the risk of insolvency (i.e., not being able to pay money owed to all parties on time).
Solvency II reporting rules stipulate the minimal financial resources insurers must have to cover risks, while also providing risk management guidance so that companies can better anticipate and handle difficult situations like natural disasters, financial downturns, and so on.
The Solvency II framework consists of three "pillars":
Pillar 1: Requirements about how much capital an insurer should hold
Pillar 2: Requirements concerning risk management
Pillar 3: Requirements for transparency and reporting
For more detailed information, check out these Solvency II FAQ from the European Commission.
Solvency II Reporting Requirements
Let's explore a bit about the reporting requirements as set out in the third pillar. Regulated companies are required to submit two key reports: the Solvency and Financial Condition Report (SFCR) and the Regulatory Supervisory Report (RSR). These reports are to be submitted in XBRL format according to the Solvency II XBRL Taxonomy.
XBRL, the eXtensible Business Reporting Language, is an XML-based standard maintained by XBRL International for financial reporting. EIOPA has developed a Solvency II taxonomy, which defines rules for data submission. Reporting companies send data in an XBRL instance document that is generated according to and validated against the rules in the Solvency II taxonomy.
Through standardizing the submission of financial information, XBRL has received widespread global adoption by regulatory authorities, who've realized benefits in automation, cost savings, increased data reliability, and easier analysis and decision making. However, XBRL syntax remains complex and highly technical, presenting a steep learning curve for business users and financial professionals.
Generate Solvency II Reports in Excel
An environment very familiar to financial pros is, of course, Microsoft Excel. We created the Solvency II add-in for Excel to allow users to build Solvency II reports directly in a template in Excel, and then auto-generate the corresponding XBRL report.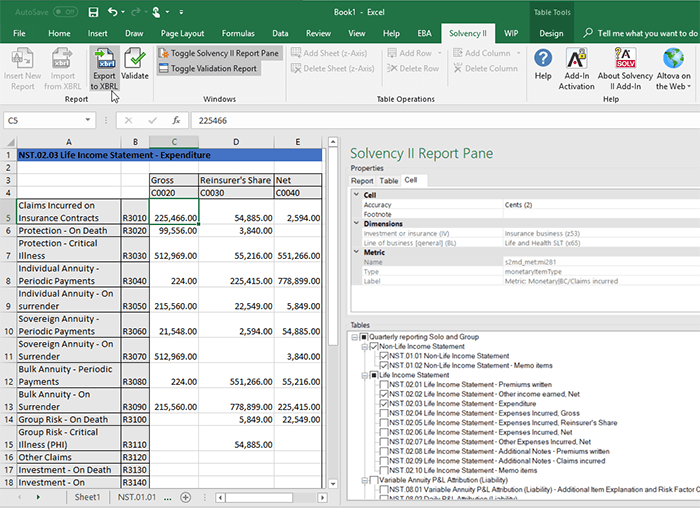 After downloading and installing the add-in, a new Solvency II section will be available in the Excel ribbon, with buttons to:
Enter Solvency II reporting data using a predefined template spreadsheet
Validate report data to ensure it conforms to the Solvency II XBRL taxonomy
Export Solvency II reports from Excel to XBRL for filing
Import data from existing Solvency II XBRL reports into Excel for analysis
The ribbon also includes a help button to launch detailed how-to information for report creation.

The add-in supports the four most recent versions of the Solvency Taxonomy, and you can select which version to work with after clicking Insert New Report. Then, select the entry point for the report you want to create.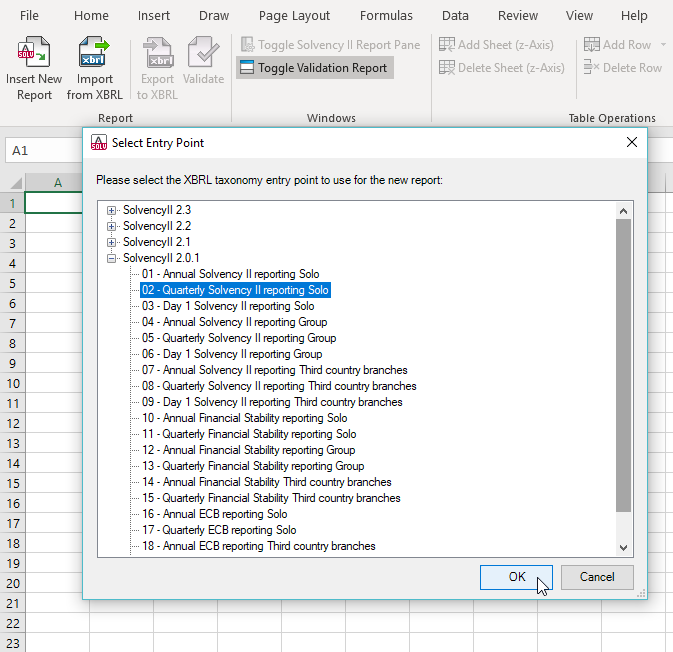 Once the report template is opened, you can insert additional tables using the Tables section of the Solvency II Report Pane. Each selected table will open as a new tab in your Excel worksheet.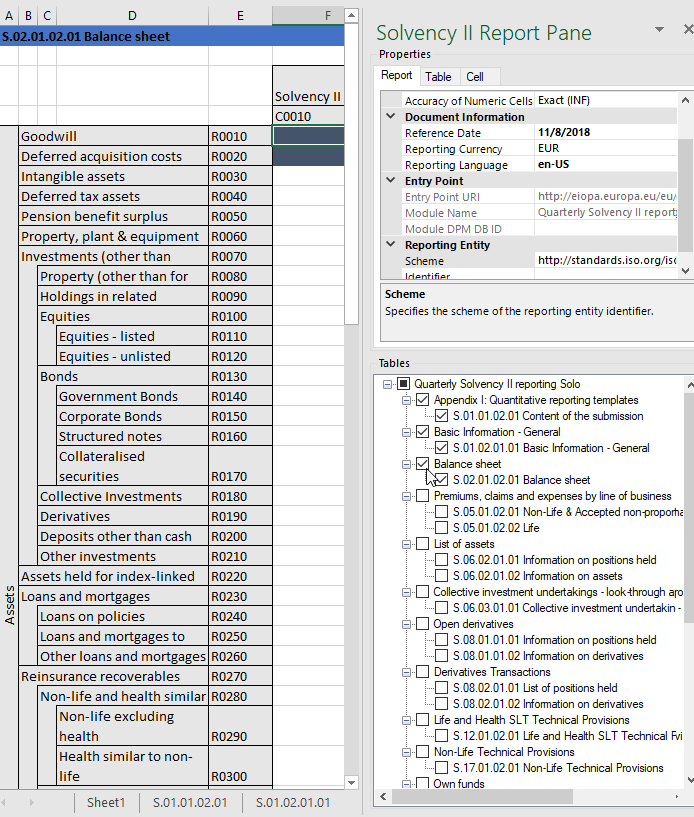 Above the Tables window, the Properties window includes tabs for Report, Table, and Cell. The properties displayed refer to the content of the XBRL instance file that will be created when you export the XBRL instance. Next to each property is a description with helpful information about the selected report, table, or cell. Properties that are grayed out are read-only; otherwise, you can edit a property by typing text or selecting a value from a drop-down box.
The Cell pane displays the description of the currently selected cell as it's annotated in the underlying Solvency II XBRL taxonomy, helping you understand exactly what to enter.
With the report and tables selected, now it's time to enter data. You can populate the report with data either by entering data into cells manually or by pasting values. With some cells, you can select a value from a predefined drop-down list (such as countries or currencies).
At any time during data entry, you can validate the report to receive information about and a link to any errors. In this example, the cell that triggered a validation error has an extra comma before the decimal point. Using the reported validation message, I was able to navigate to the error with one click.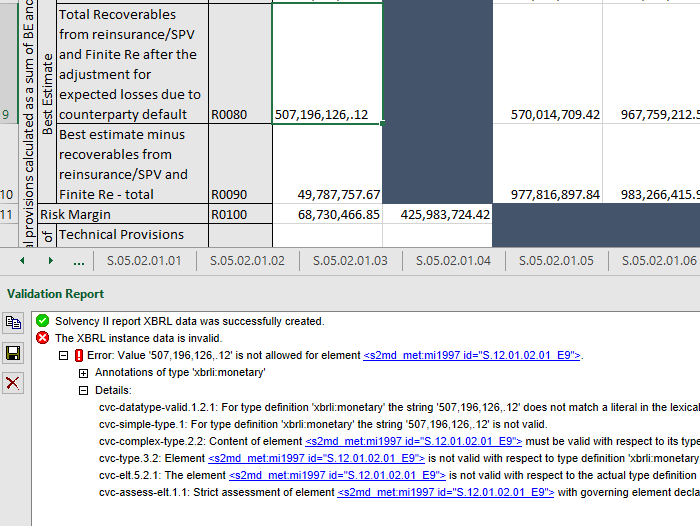 Once the report is complete and valid, it's time to generate the XBRL file by clicking the Export to XBRL button in the Solvency II ribbon. The add-in generates a valid XBRL file and prompts you to save it to your file system.
Here is the resulting XBRL report for the example above, shown in XMLSpy.
Import Solvency II XBRL for Analysis
If you've received some Solvency II reports in XBRL, you can import them to Excel, where it's much easier to review, understand, analyze, and even re-use the data.
Local Extension Taxonomies
Certain EU countries have created extension taxonomies for Solvency II reporting. The add-in also supports these taxonomies, which you can download and install for creating reports:
CBI: Solvency II Solvency II NST reports from the Central bank of Ireland
FTK: "Algemene Pensioenfondsen" and "Financieel Toesingskader" reports from De Nederlandsche Bank
Try it Now
It's easy to try the Altova Solvency II XBRL add-in for Excel. Simply download a free, 30-day trial from the Altova web site. The installer will walk you through requesting a free keycode (no credit card is required), and then the Solvency II ribbon will be available in your Excel installation.
Learn more…
In addition to the Solvency II add-in, Altova offers a variety of regulatory solutions for generating filing reports for Country by Country Reporting, Work in Process (WIP) reports, and European Banking Authority (EBA) standards.