New Tools to Work with XBRL in Excel
With the importance of accurate, standardized financial reporting enforced through XBRL filing mandates, having XBRL tools you can rely on is a must. What's more, financial professionals need to be able to generate XBRL reports easily without getting bogged down by the complexities of XBRL syntax.
Altova offers several add-ins for Excel that make it easy for organizations to comply with regulations from the EBA, EIOPA, and other regulatory bodies that mandate reporting in XBRL. These easy-to-use software products integrate directly into Excel so that users can create valid XBRL reports in an environment where they're already comfortable working. And, the add-ins support importing existing XBRL reports to Excel for easy readability and analysis.
The latest release of the Altova XBRL Add-ins for Excel provides some important new features – let's take a look.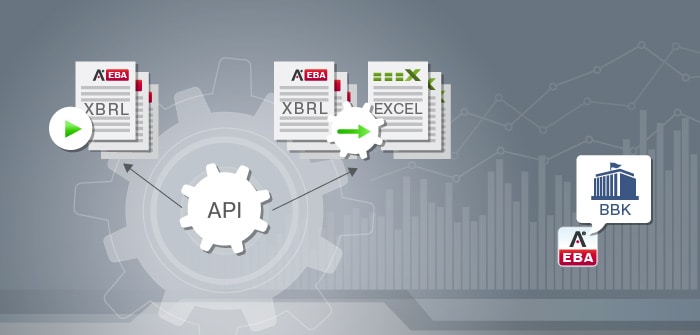 Flexible Excel to XBRL Options
Two XBRL products in the latest Altova release were updated with additional options for efficiency and easy of use for non-technical end users:
Altova EBA XBRL add-in for Excel
The European Banking Authority (EBA) has standardized on XBRL for the transmission of data submitted by filing entities. To help organizations easily generate XBRL reports, financial pros can create their EBA reports in Excel, and the add-in will generate a valid report according to the EBA XBRL rules for filing. Lean more about moving between EBA XBRL and Excel.
Altova Solvency II XBRL add-in for Excel
This Altova XBRL add-in for Excel targets Solvency II, a set of guidelines and XBRL reporting regulations from EIOPA (European Insurance and Occupational Pensions Authority) for insurance and reinsurance companies. Like the EBA XBRL add-in for Excel, it lets users work in Excel to generate valid XBRL and also to import existing XBRL reports to Excel.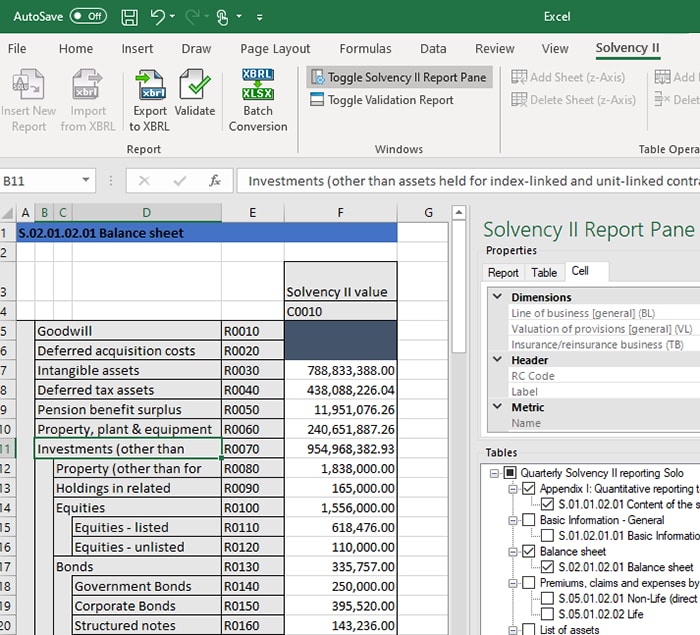 Learn more about generating Solvency II XBRL reports without the headache.
Batch conversion of XBRL to Excel
In addition to one-to-one report generation or conversion, these Altova XBRL add-ins for Excel now offer batch conversion. Users will find a new button in the EBA or Solvency II tab of the Excel ribbon that allows for batch conversion of XBRL reports into Excel (.xslx) documents.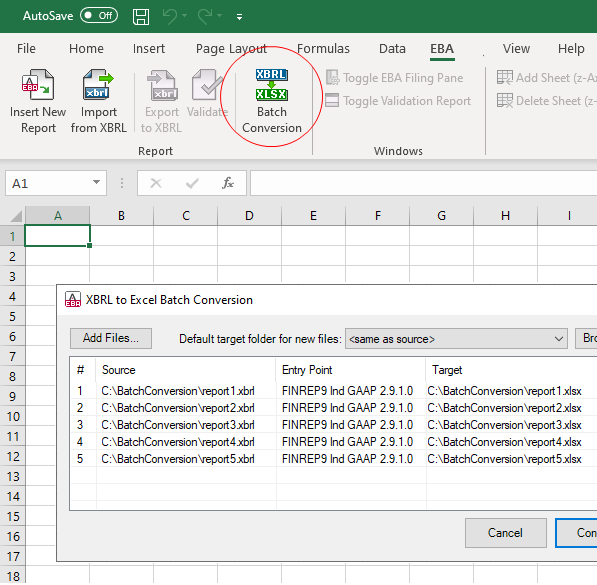 Full validation of files is provided during batch conversion, with any errors reported at the end of the conversion process.
Easy batch conversion is a huge time saver for customers working with larger numbers of files. As such, after numerous customer requests, it is now available in the Enterprise Editions of the EBA XBRL add-in for Excel and Solvency II add-in for Excel.
COM API for Automation
The Enterprise Editions of both products also include a COM API that can be used to programmatically automate data entry, facilitate proper editing of the Excel/XBRL document, and automate the creation of EBA XBRL reports – all of which can increase efficiency and help to reduce data entry errors.
The COM API can be used from within Excel's macro language, as well as from programming languages that support interacting with Excel and accessing COM objects programmatically, such as VBA or .NET languages.
Free Trials
Learn more about the Altova EBA XBRL add-in for Excel and Altova Solvency II XBRL add-in for Excel. You can download each product for a free, 30-day trial. Simply install the software and access the Add-in Activation button in the EBA or Solvency II tab that will now be available in your Excel ribbon.