New Demo Video: Intro to DatabaseSpy
We're expanding our Flash video series to cover DatabaseSpy, Altova's multi-purpose database utility. Available to view now, the first DatabaseSpy video is a two-minute introduction that quickly highlights many DatabaseSpy features and shows off its elegant and fun-to-use interface.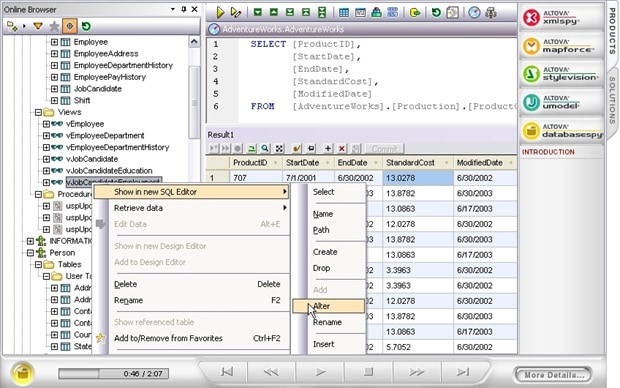 If you have ever wondered how a multi-database query and design tool can help with a range of database analysis, design, and editing tasks, check out this quick tour. You'll get to see the DatabaseSpy Quick Connection Wizard, Database Browser, SQL Editor, data editing functionality, and the Graphical Design Editor that lets you visualize, create, or modify database tables and relationships without writing SQL commands. Find out for yourself why DatabaseSpy has received such high acclaim – and look for more Flash videos coming soon in the DatabaseSpy series!