Thanks to invaluable feedback from developers building apps in MobileTogether, we're constantly adding new functionality to the product. Close on the heels of MobileTogether 2.1, which added over 30 new features, is the latest release: Version 2.2.
Additions to MobileTogether 2.2 are focused on integrating multimedia assets in your mobile apps, with new tools for using audio and video functionality to enable seamless interactivity that your end users will love.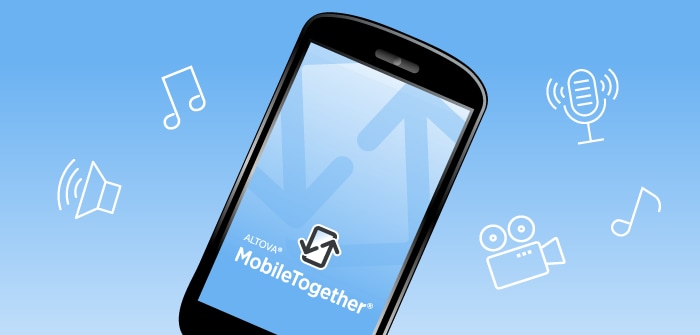 New in MobileTogether 2.2:
New Action for recording audio
New Action to play audio
New Action to play video
A new Control to embed video within an app
Audio and video XQuery extension functions
A new Simulator feature for LAN connections
End-user file dialog
Enhanced context menu for tables
These new Actions allow users to record sounds in various audio formats, and to play back sound and video files. A new video Control lets you embed videos in your apps with all the expected playback options.
These new features make it really easy to add the "wow" factor to the app you're building for iOS, Android, Windows, and other platforms. For instance, you could build a mobile app to support field service technicians that includes videos of repair procedures, or a helpful alert sound can be added to an app to signal completion of a critical task, like a successful database update. Or, your app could empower mobile users to take a picture, then record commentary to accompany the image. The possibilities are endless!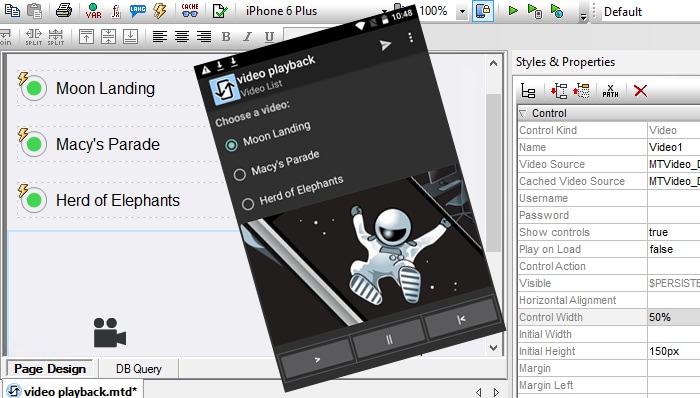 In addition to new audio and video functionality, MobileTogether 2.2 includes a new end-user dialog for opening and saving files, which expands file import/export functionality.
Get Version 2.2
Read more about these new features and update to Version 2.2.
If you're not already a customer, download MobileTogether Designer to build your first app. It's free!