MobileTogether Continues to Redefine Mobile Development in Version 2.0
To match the speed of business, mobile app development must be simple, fast, and efficient. Your apps must meet user demands on all platforms and mobilize essential processes seamlessly. Sounds easy enough, right? With MobileTogether, it is.
In true version 2.0 fashion, MobileTogether delivers the final piece of the puzzle: you can build your own, custom-branded app to submit to the app stores.
The new AppStore Deployment process is well suited for customer-facing or specially-branded apps. This option adds to existing support for Instant Deployment of enterprise app solutions using the MobileTogether Mobile Apps.  With either approach, you'll still get your app in end users' hands in record time – much faster than any other approach.
How does it work?
Connect to back end data in relational databases, XML, JSON, Web services, or HTML and develop your mobile app in MobileTogether Designer.
Deploy app to your MobileTogether Server (on-premises or in the cloud).
End users access your app instantly via the MobileTogether Mobile App on their device (or continue to step 4).
Add custom branding, compile an app for each platform using the auto-generated MobileTogether code packages, and submit it to the app store(s).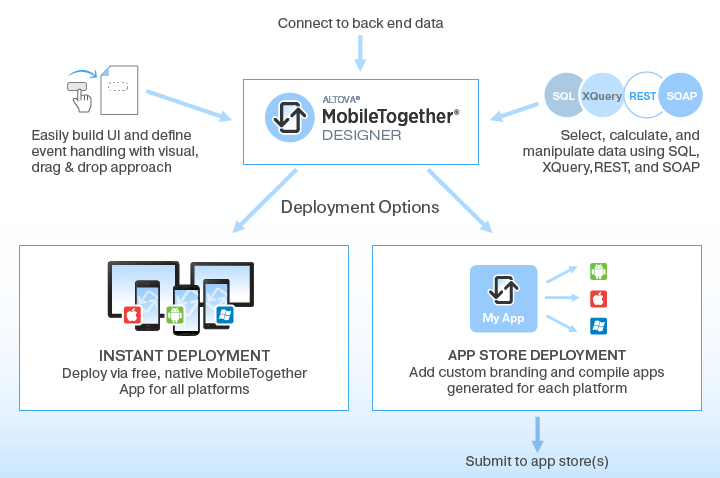 How does this redefine mobile development?
These four steps seem simple, because they are. You don't have to be a mobile developer to build a kickass app in MobileTogether. The Designer employs a unique combination of visual, drag and drop design for building the app UI and functional programming using XPath or XQuery for selecting and processing data.
This approach lets you deliver a sophisticated app for processing, reporting, or collecting data in as little as 2-5 days, rather than 6+months.
Because MobileTogether takes care of rendering everything properly for each device, form factor, and screen orientation, you can focus on the logic and functionality of your app without worrying about cross-platform capabilities. In other words, you can build once and deploy everywhere – via native apps.
New in Version 2.0
The addition of the App Store Deployment option completes the MobileTogether offering by giving developers the flexibility to build data-centric apps for any scenario: in-house, enterprise, customer-facing, student-accessed, you-name-it.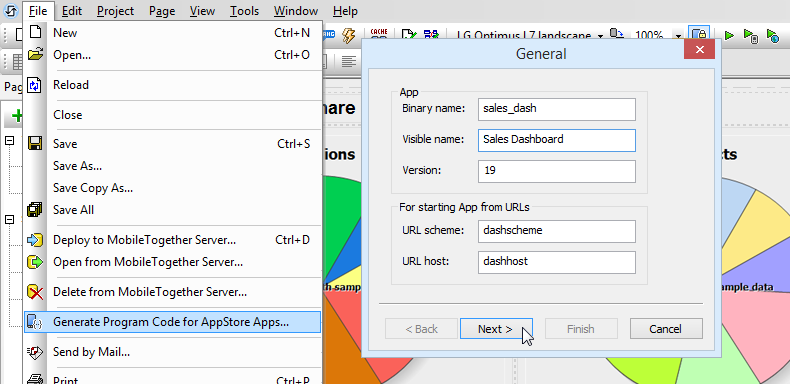 2.0 also includes a significant number of other new features :
Free App Jumpstart with Server purchase (see below)
Support for REST and SOAP Web services
Support for JSON data
New server licensing option: per server core
Support for Firebird databases
Other supported databases updated to include newest versions
Parallel processing of multiple solutions
Signature / simple drawing control
Load / save files with filename calculated via XPath
Simulate missing Server access
Support for Windows 10
Support for Windows 10 Edge Browser
New XPath functions for color handling
Support for multiple languages: English, German, French, Japanese, Spanish
New flag for source trees: Keep data on client
New page action: OnServerConnectionError
Yes, we'll even build it for you
Building data-centric apps in MobileTogether couldn't be easier. Even so, sometimes a jumpstart proof-of-concept can help get you moving in the right direction. With that in mind, for a limited time, Altova will build your first app for you when you purchase MobileTogether Server.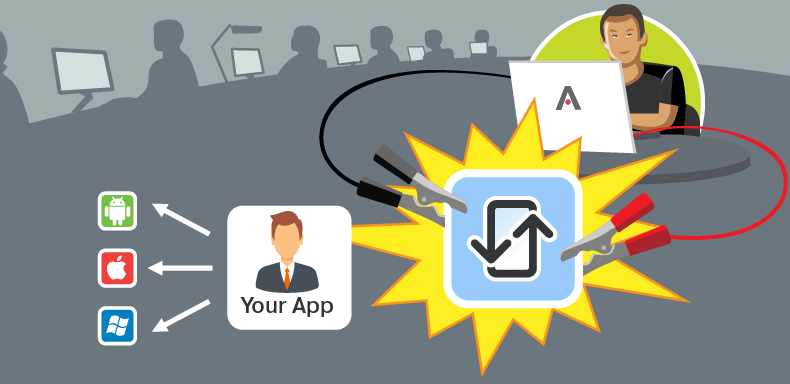 With your app in hand, you'll see how easy it is to create more like it.
What's the bottom line?
The new functionality in MobileTogether 2.0 hasn't come with a price increase.
MobileTogether Designer is free, as are the MobileTogether Apps for instant deployment. MobileTogether Server is free for 30 days and then is priced affordably, starting at $500/year for smaller installations and scaling predictably.
This pricing model is designed to bring the agility enjoyed by startups to large enterprises, and powerful dev tools that were previously unaffordable to smaller businesses.
Get started.
Redefine mobile development at your company.