Learn About Inline XBRL and XBRL Taxonomy Packages
As adoption of the eXtensible Business Reporting Language (XBRL) for financial reporting increases worldwide, new standards are emerging to meet the needs of filing companies and developers alike. Altova's line of XBRL-enabled products supports a wide-range of XBRL standards and is updated frequently as new specifications emerge.
Let's take a closer look at two of the newer XBRL standards – Inline XBRL and XBRL Taxonomy Packages – and explore how they work.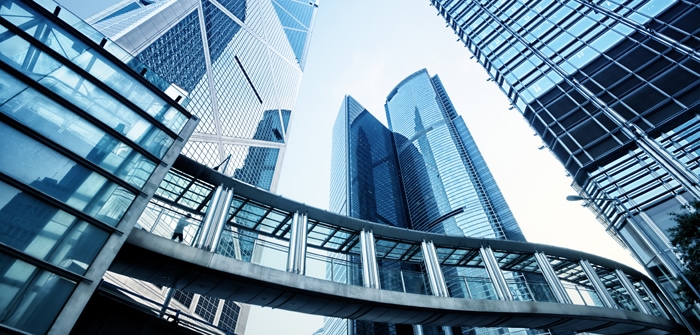 Inline XBRL (iXBRL)
The Inline XBRL specification from XBRL International extends XBRL with the aim to increase efficiency by allowing filers to embed their XBRL data directly into an HTML document, rather than having the XBRL data totally separate from the corresponding, human-readable report. This provides added flexibility and combines the benefits of tagged data with a user-friendly presentation of a report: humans can understand the information by simply viewing it in a Web browser, and software can consume the report for automated analysis.
Using Inline XBRL, preparers embed the XBRL data into the HTML in a standardized way that allows it to be readily extracted into an XBRL instance document, as required, and then submit a single document to report their financials.
For organizations using this specification, XMLSpy (version 2017 or higher) supports validation of Inline XBRL files.
Since the XBRL data contained in an iXBRL document still must be extracted into an XBRL instance document for further processing, XMLSpy provides that functionality with the Transform Inline XBRL command.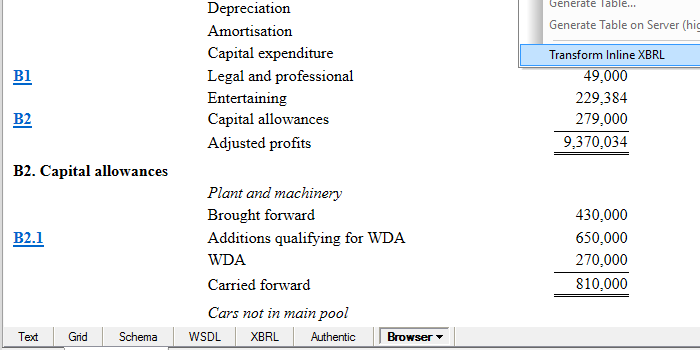 This extracts the Inline XBRL data from the active HTML report and generates one or more XBRL documents containing the extracted data. The generated XBRL documents are opened in new windows, and can be saved to file, edited, and so on.
iXBRL Data Mapping
Support for the specification is also available during XBRL data mapping in MapForce, where files that contain Inline XBRL can be added as source components for mapping to relational databases or other data formats.
Generating Inline XBRL Reports
For organizations working with iXBRL, StyleVision makes it easy to design and generate the HTML report. The drag-and-drop report design process employed by StyleVision means customers can build an attractive, human readable iXBRL report quickly and easily.
High-performance iXBRL Validation
Finally, Inline XBRL adds to the long list of XBRL specifications that may be validated on RaptorXML+XBRL Server for high speed, high volume jobs.  In the first step of the validation, command execution transforms the report to XBRL by extracting the Inline XBRL, and validating the generated XBRL instance document against the relevant XBRL taxonomy. The generated XBRL instance may optionally be saved.
XBRL Taxonomy Packages
XBRL taxonomies are generally comprised of numerous related documents, often packaged together in a ZIP file for convenience. A new XBRL specification called XBRL Taxonomy Packages was created to make working with these documents easier.
The XBRL Taxonomy Package spec defines a standard format and location for a file in the ZIP archive that provides a description of the package as well as the entry point. The taxonomy package also contains a catalog XML file that remaps URIs to the offline taxonomy's file locations, making the taxonomy readily available offline to applications without extra configuration by humans.
We have numerous customers already utilizing XBRL Taxonomy Packages, and starting with Version 2017 both XMLSpy and RaptorXML+XBRL Server support validation of their contents.
After you have downloaded a taxonomy package, you can register it with XMLSpy to automatically identify and use the entry point catalog file of the package. The catalog files of active packages will then be used to locate resources validation and other operations.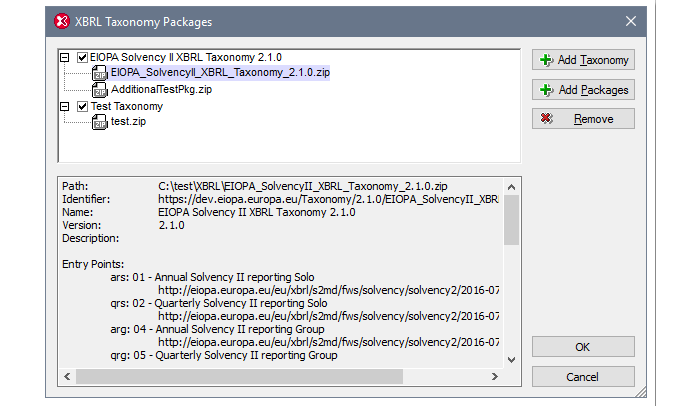 Once added, the taxonomy package(s) will be available to all XBRL-enabled Altova products on the developer's machine (e.g., MapForce, StyleVision, etc.).
As new XBRL standards emerge, look for them to be added to the comprehensive support provided by Altova tools for editing, generating, converting, rendering, and validating XBRL to meet a wide variety of needs for filing entities and regulatory agencies.
Learn more about Altova XBRL Tools and download a free trial at any time.