Just-in-Time StyleVision Training
Multiple new features and usability enhancements have been added to StyleVision® 2010 based on customer requests, and Altova Online Training has updated all StyleVision modules to help you take advantage of these improvements.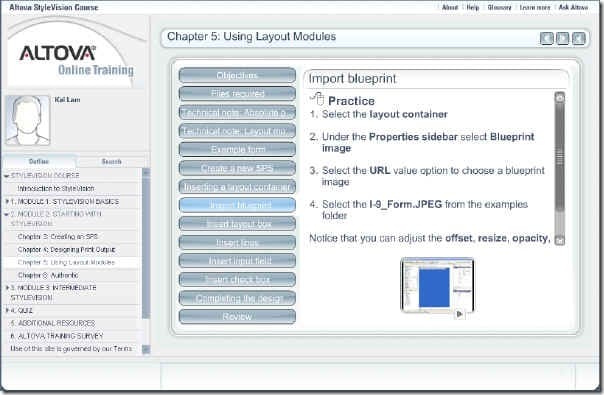 The beginner and intermediate level course begins with an introduction to the StyleVision interface and functionality as well as interactive tutorials for transforming XML and database content into eye-catching HTML pages, RTF documents, PDF reports, Word 2007 (OOXML) docs, and intuitive Authentic® forms.  Module 2 builds on this foundation and provides detailed tutorials that will help you create an effective SPS file, design print output, use absolutely positioned layout modules, and create Authentic documents for users who would benefit from updating XML documents without seeing the underlying XML syntax. Module 3 introduces more advanced topics and includes step-by-step instructions on inserting auto-calculations, outputting XHTML, importing XSLT, disabling output escaping, setting DPI conversion factors, and using variables and user-defined templates and elements.  Access the free StyleVision Course now.