InfoPath Alternatives from Altova
InfoPath, the popular business forms software from Microsoft, was sunset by the company starting in 2016. Without a direct replacement, customers have turned to InfoPath alternatives to facilitate forms creation and automated data collection.
Altova offers two alternatives that meet different customer implementation requirements. This article will walk you through some background information and help you decide which product to choose.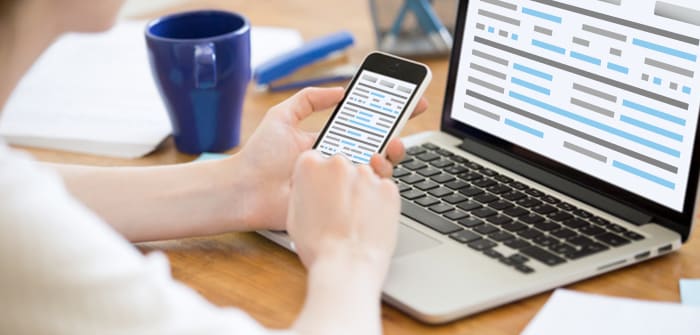 What is InfoPath?
Microsoft InfoPath is software for creating, distributing, and recording data from electronic forms containing structured data (i.e., XML). It includes a WYSIWYG, drag-and-drop designer for creating forms that take advantage of separation of data and presentation, streamlining the automation of data collection. InfoPath forms also support validation of data rules and business logic, allowing for the collection of consistent and reusable data.
Originally introduced as part of Microsoft Office 2003, the final release of InfoPath was in 2016. The company has promised support for InfoPath clients through 2026, but there is no guarantee that all features of existing forms will work during that time. This article on reasons to migrate away from InfoPath sooner rather than later provides more specifics.
As a possible InfoPath replacement, Microsoft offers PowerApps, but there are inherent differences in the way PowerApps manages data, and the software doesn't provide all the features utilized by InfoPath users.
The Altova product portfolio includes two XML-driven tools for developers and power users that are attractive alternatives to InfoPath. For desktop, forms-driven needs, Authentic fits the bill. For mobile forms or enterprise data solutions, customers should consider MobileTogether.
MobileTogether as an InfoPath Replacement
Clearly, the way the world does business has evolved since InfoPath was introduced to the market. We've seen the definition of "the office" become more flexible and workers become productive on a wide variety of devices. For customers who need to deploy forms to mobile users, or to build forms and dashboards as part of a comprehensive enterprise solution, Altova MobileTogether is a great InfoPath replacement.
MobileTogether is a rapid application development (RAD) framework for building data-centric solutions for all platforms: apps built with MobileTogether are simultaneously available on iOS and Android, as well as Windows and any web browser. Supported backend data sources are XML as well as JSON, relational databases, HTML, and Web services.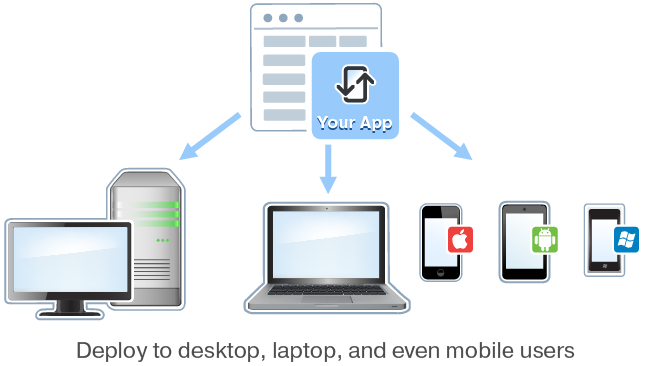 For software engineers and citizen developers, creating an app or enterprise solution in MobileTogether Designer is an easy-to-learn, straightforward process combining drag-and-drop UI design, the visual Action Tree visual programming language for event handling, and standardized functional programming for data selection and processing.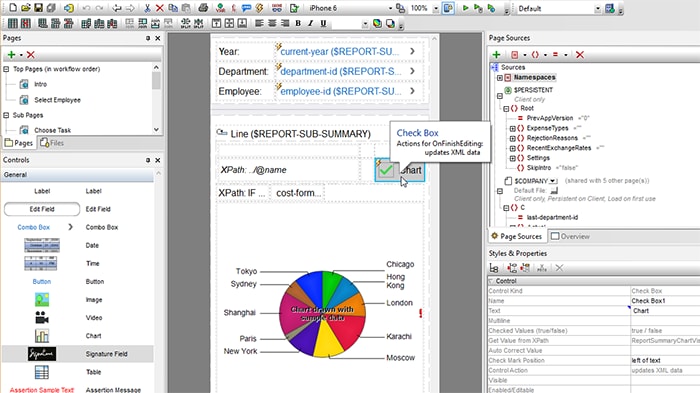 Once a design is created, MobileTogether does the heavy lifting by generating an app for all mobile and desktop platforms based on that single design.
Customers can definitely replicate InfoPath forms functionality in MobileTogether – and the framework offers so much more for empowering users and adding new value to your data.
If you're in search of a Windows desktop application and don't need mobile support, Altova Authentic offers another interesting alternative to InfoPath.
InfoPath Alternative: Altova Authentic
As a WYSIWYG XML forms tool for business users, Altova Authentic offers a clear path to migrate away from InfoPath. Like InfoPath, Authentic shields users from the XML markup behind each form, allowing them to focus on content and data entry.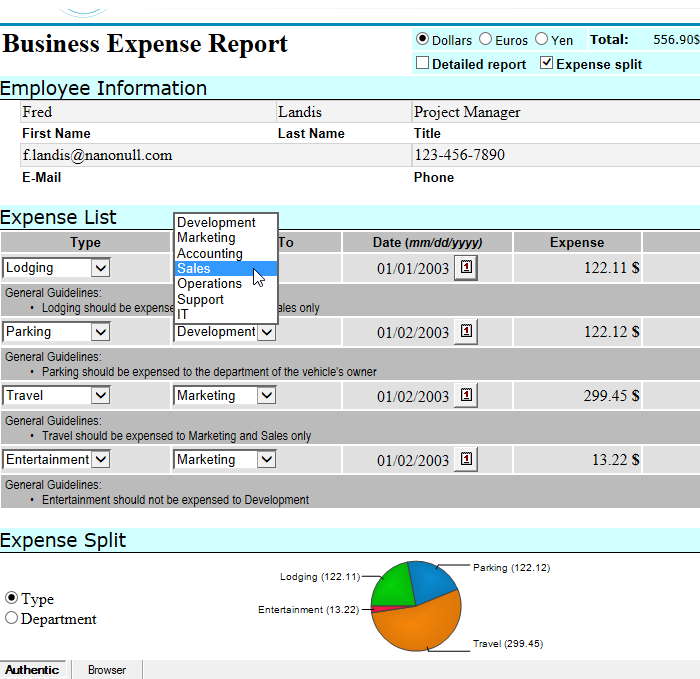 Authentic is a modern application with new versions released by Altova 1-3 times each year. It shares numerous features with InfoPath, including:
Interactive electronic forms based on structure data
User-friendly data entry interface
XML and business logic validation
Advanced e-forms layout options
Conditional formatting
Dynamic tables
Project management
Visual Studio integration
Database integration
Advanced developer options (scripting, APIs, etc.)
It additionally offers:
Built-in support for industry standards (DITA, DocBook, NewsML, etc.)
Multi-channel output of forms content in HTML, PDF, and Word
Portable XML Forms (PXF) that embed all associated files (XML, XSD, XSL, etc.) in one archive for convenient distribution
Using Altova StyleVision, developers or other technical users can create Authentic forms without writing code. A powerful drag-and-drop design interface makes it easy to create advanced, attractive forms based on an underlying XML data model. Forms can be started from scratch or based on the blueprint of a paper form or an existing Word doc.
Try These InfoPath Replacements
Altova offers two options for replacing InfoPath, and you can try one or both for free, based on your requirements:
Download the free MobileTogether Designer if you need to create mobile forms or full-fledged enterprise solutions for mobile and/or desktop users.
Download a free trial of StyleVision and Authentic to create XML forms for business users in a desktop environment.