We recently released the free Group & Gather app for organizing events and details with your friends or colleagues.
The latest update of Group & Gather is fully localized in English, French, German, Japanese, and Spanish.
Now you can organize events in your native language, or the language of a region you're visiting – you can even switch back and forth. And that's important, because the people you are inviting might not speak the same language that you're using on your device.
Let's see how it works.
 
Selecting Your Language
By default, the Group & Gather language will be the same as the operating system language on your device. However, if you want to manually update to another language, it's easy to do that while creating your account, or simply by logging out and back in at a later time and picking a different language.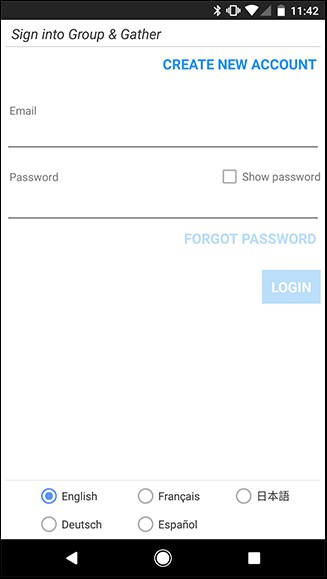 Here's my home screen in Japanese and Spanish. To switch to a new language, you simply need to log out on the My Account screen and select a new language before logging back in.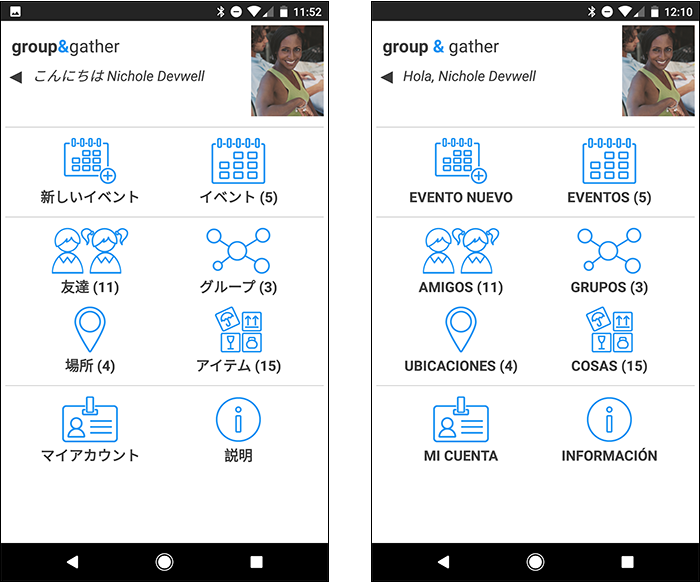 The language you select also drives the default text for any emails sent out by the app to invite your friends, or the web-based voting screens that your friends can access from that email.
Get the App
The localized version of Group & Gather is free in your favorite app store.
Mobile App Localization Made Easy
Because Group & Gather was built using the MobileTogether cross-platform mobile app development framework, it was easy to add localization options to the native apps for Android, iPhone, iPad, and Windows – as well as the web based client – all within the same design.
Once an app is created in a default language in MobileTogether Designer, all text strings in the app can easily be translated to multiple languages to support users worldwide.
The localized strings are defined in the Localization dialog (accessed via the Project menu) by adding a column for each new language and defining the localized strings in this column.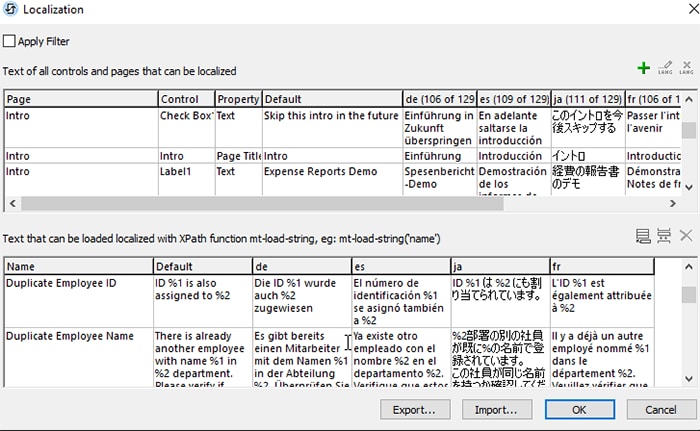 Localized strings can be exported to XML files, which is helpful for allowing translators to work independently with their separate XML language files, or even import the corresponding file into a specialized localization tool that utilizes a translation-memory approach. The translated strings in the XML files can then be imported into the project, and will be automatically placed in their corresponding localization-language columns in the Localization dialog.
The built-in simulator in MobileTogether Designer allows you to fully test your app in each language before deploying it to users or submitting it to the app stores. Select the language for testing using the Project | Simulation Command.
Want to build your next app in multiple languages and in record time? Check out the free MobileTogether Designer.