MyCollections, the easy-to-use app for cataloging and sharing your collections, has been updated with flexible new tools for customizing the way your published collections are displayed.
Whether you're using the MyCollections app for iOS, Android, Windows, or the web, the new options in MyCollections 4.0 make it even easier to show off your collections exactly as you'd like to.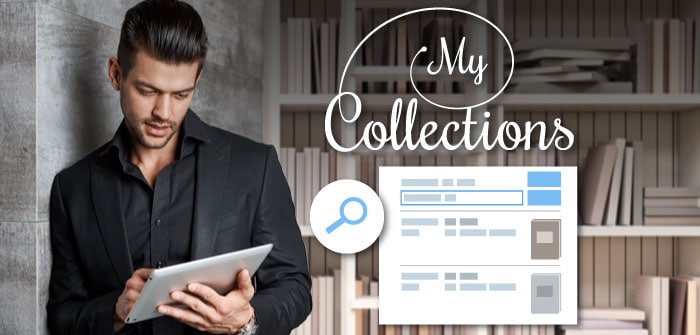 Add More Details to Your Collections
There are several new features in MyCollections 4.0 that make it easier to enter collection records and fine-tune the display of your collections:
Support for adding custom introductory text when you publish a collection
Links in introduction and text fields will be detected and automatically clickable
When publishing an update to a public collection, the old URL will automatically redirect to the new collection
Support for searching in published collections – both within the app and on the web
New button to duplicate a record
When making a collection public, it's now possible to add some introductory text to describe your collection. In addition, for all collections (private, shared with friends, or made public) any links or email address you add will be automatically detected and will be clickable.
Below, I've added a short introduction to my Books collection as well as an email address using the mailto: convention. When the collection is published, viewers will be able to tap the email address to launch their device's email app and compose a message.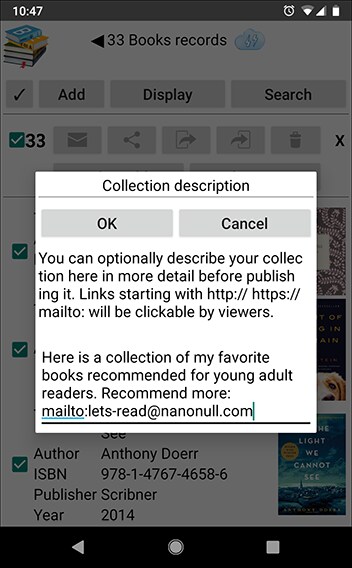 It's now also possible to search within published collections using the iOS, Android, Windows, and web MyCollections apps.
When you publish an update to an existing collection, the old URL will redirect to the updated collection, providing a seamless experience for users. As you know, when deploying an update to a published collection, the revised collection gets a new GUID, so it can be uniquely identified. For example:
https://mycollections.altova.com/run?d=/anonymous/PublishedCollections&in1=BC4D1B65-CE4A-40B6-BB55-15C28A718164
This has been a concern for many users, because the old web link to the previously published collection became invalid at that time. So you always had to update your friends and share the new link with them. Version 4 still issues a new GUID for a new published collection update, but now all previous website links still work and will automatically redirect to your newly updated published collection.
New features for data entry include a duplicate-record button, which can be a huge time saver when you're entering records that contain some of the same information. For instance, I can duplicate the record shown below to add another book by the same author and publisher.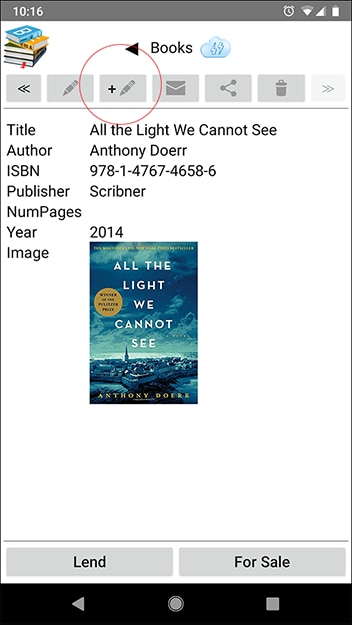 Lastly, you can now export your collections in XML or CSV formats for processing data in Excel or other software.
If you haven't yet updated to the latest version of MyCollections, or if you're ready to try this free app for showing off your collections for the first time, download it here: