Excel Add-in Generates XBRL WIP Data
The reach of the eXtensible Business Reporting Language (XBRL) is rapidly expanding beyond financial reporting requirements to provide the advantages of standardized data submission across verticals. One recent development is the Work in Process XBRL Taxonomy created by XBRL.US for the surety industry.
The good news is that non-technical stakeholders can be completely shielded from the complexity of XBRL using software tools developed in concert with the taxonomy standards.
We're excited to introduce the Altova Work in Process (WIP) XBRL add-in for Excel: a new product that lets contractors build their WIP reports directly in Excel, where they're already comfortable working, and then export the reports in WIP XBRL for submission to sureties and underwriters.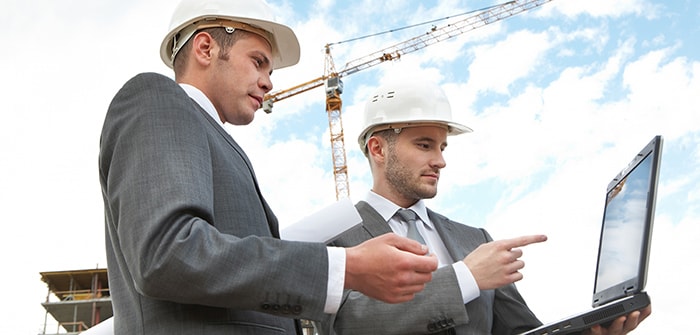 Getting WIP XBRL from Excel
As discussed in my earlier post on mapping data conforming to the Work in Process Taxonomy to relational databases for analysis, XBRL.US worked with surety industry representatives to develop the WIP XBRL taxonomy to bring the benefits of standardized data fields and validation, i.e., saving time and reducing errors, to the well-known Work in Process reports that contractors are required to submit to sureties on a quarterly basis.
The challenge is enabling contractors to generate the XBRL reports without adding additional complexity. To that end, Altova worked alongside XBRL.US to build the Work in Process (WIP) XBRL add-in for Excel to let contractors enter all their WIP data using a familiar spreadsheet template.
They simply install the add-in once, and then a built-in WIP report template and WIP ribbon are available in Excel. As you can see in the screenshot below, the template provides preset rows and columns and a Document Actions pane for easy data entry of dates, currency, and so on, and it provides descriptions of each field as well.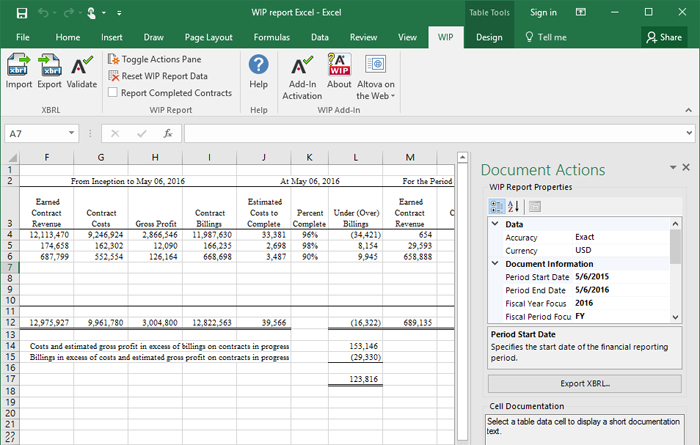 The Cell Documentation window provides a description of the currently selected cell, including how data is calculated, should the user have a question during data entry.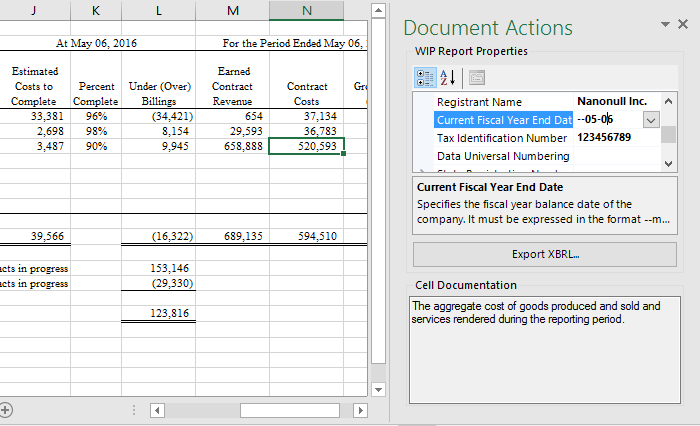 For more guidance, a comprehensive Help file is accessible from the WIP ribbon.
Once the WIP report is complete, the user simply clicks the Export XBRL button – either in the WIP ribbon or the Document Actions pane – and the add-in generates an XBRL instance file for submission.
From start to finish, no technical XBRL expertise is required to get the report into a valid XBRL format according to the Work in Process Taxonomy.
Easily Re-use WIP Data
The information entered into the WIP XBRL template can come from a contractor's existing spreadsheets, linked via Excel formulas. Or, this new spreadsheet template can replace previous tracking spreadsheets and be used to update WIP reports on a quarterly basis going forward.
Import WIP XBRL to Excel
If a contractor or other stakeholder receives a WIP report in XBRL, the Import XBRL button in the WIP ribbon will open that file in Excel so it can be viewed and analyzed easily, or combined with other reports.
Learn more and download a free, 30-day trial of the Altova Work in Process (WIP) XBRL add-in for Excel from the Altova web site. Simply install the software and select it from the Start menu to begin!