The ESEF acronym has been top of mind for finance professionals across the EU and UK since mid 2019, when an upcoming reporting mandate from the European Securities and Markets Authority (ESMA) was announced.
ESEF, which stands for European Single Electronic Format, is a digital financial reporting standard based on XBRL. As of early 2020, companies on EU regulated markets are mandated to prepare their annual reports in accordance with ESEF rules.
What exactly is ESEF compliance, and what does it take to meet reporting requirements? Let's take a look at the basics and some tools that make it easy.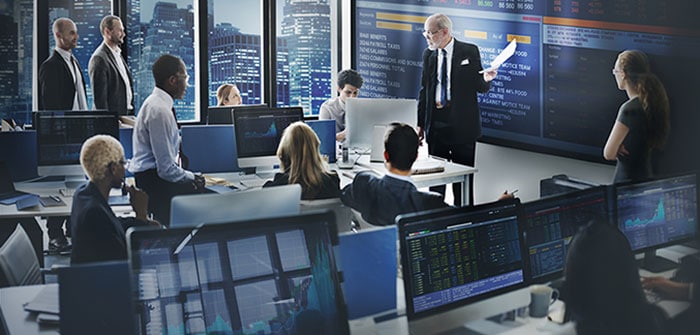 What is ESEF?
ESEF is an electronic reporting standard created by ESMA, the EU's securities markets regulator. The standard is part of the organization's Transparency Directive, which seeks to improve transparency of financial information for investors by standardizing reporting and making reported information available to the public in easily accessible ways. To meet those needs, ESEF is based on XBRL technologies.
XBRL, the eXtensible Business Reporting Language, is a well-established standard for financial reporting in use worldwide. XBRL aims to reduce costs through the elimination of time consuming and error prone human interaction. Tagging data using XBRL increases the speed of data integration and exchange, while at the same time eliminating data redundancy and quality issues.
ESEF specifies that:
IFRS (International Financial Reporting Standards) statements in annual reports must be tagged in iXBRL. iXBRL embeds XBRL tags in an XHTML document to produce a report that is formatted nicely for human consumption and is simultaneously machine readable.
Reports conform to an ESEF XBRL taxonomy that is an extension of the IFRS taxonomy.
Advantages of ESEF Reporting
The objectives behind the ESEF mandate are to make reporting easier for issuers and to facilitate easy analysis of annual financial reports. Standardizing on XBRL offers several advantages in support of these goals, including improved data quality through data validation, improved compatibility and consistency for software processing, and simplified comparison of reported data within an organization and among multiple companies.
Thanks to ESEF, consolidated financial statements of European companies are now freely available to regulators and investors – and they are readable by humans and computer software programs.
Challenges in Creating ESEF Reports
With the advantages of ESEF reporting comes a bit of a learning curve for reporting companies. Proper tagging of reported data using XBRL requires deep technical knowledge that may be a hurdle for business users.
For instance, here is an excerpt of an ESEF filing in its final XHTML format viewed in a web browser: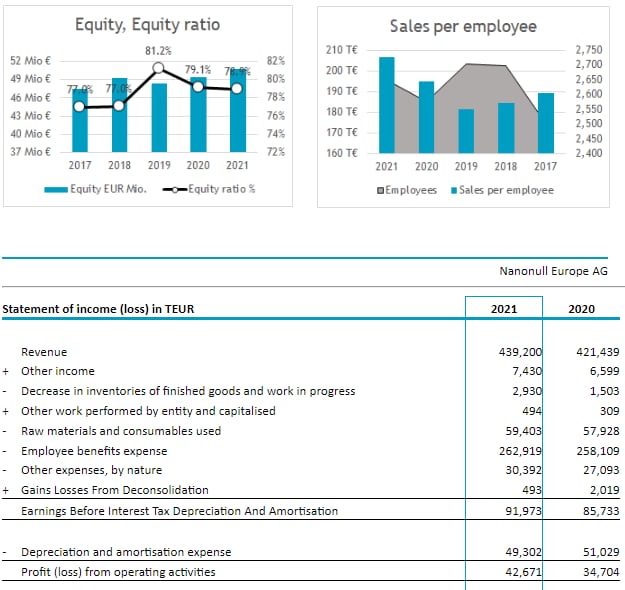 And the underlying iXBRL report looks like this:
To conform to filing requirements laid out in the ESEF Reporting Manual, filing companies must first get data from their backend accounting systems into a valid iXBRL document based on an ESEF extension taxonomy. The extension taxonomy defines the specific tags that are used for individual items of data as well as their attributes and their interrelationships, along with any disclosures that are specific to the reporting entity. The standards-based tags help software to understand the meaning of each reported figure.
Creating a valid ESEF report manually would be an untenable feat without the aid of software tools to make it easier.
Financial professionals need ESEF tools that allow them to meet reporting mandates without being burdened by the complexity of the XBRL syntax.
ESEF Tools
Creating ESEF Reports
Altova offers a complete suite of XBRL tools, including Excel add-ins for building valid XBRL reports without the need for manual XBRL tagging.
The Altova ESEF XBRL add-in for Excel is a specialized ESEF compliance tool designed to help accountants and other financial pros create XBRL reports directly inside Excel, where they're already comfortable working. When you install the add-in, a new ESEF tab is added to the Excel ribbon. This offers the ability to select your organization's extension taxonomy to start creating a report.

An ESEF Filing pane displays properties of the report so you can set them easily. The Tables section of the Filing Pane gives an overview of available tables that come from your extension taxonomy. You can select a table (or tables) from the Presentation Linkbase or Calculation Linkbase.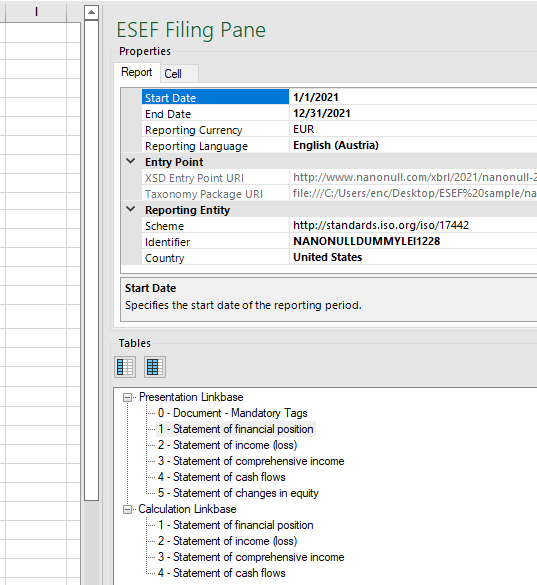 To start creating a report, select one or more tables from the entry helper and right-click to insert them.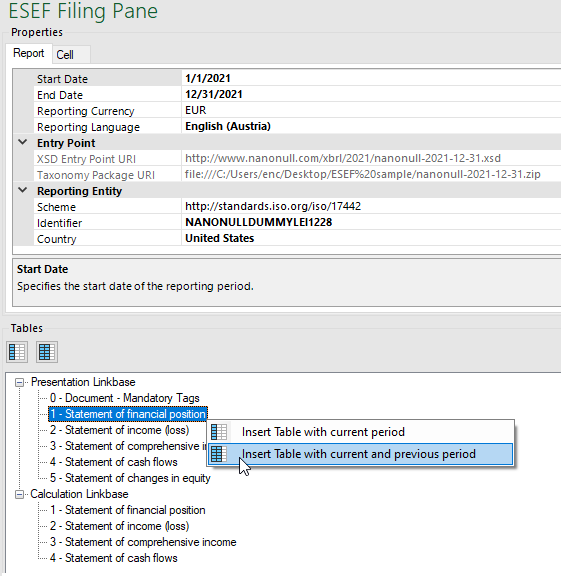 Once a table is inserted, add your data. Cells that will be tagged with iXBRL tags in the final report are highlighted in yellow.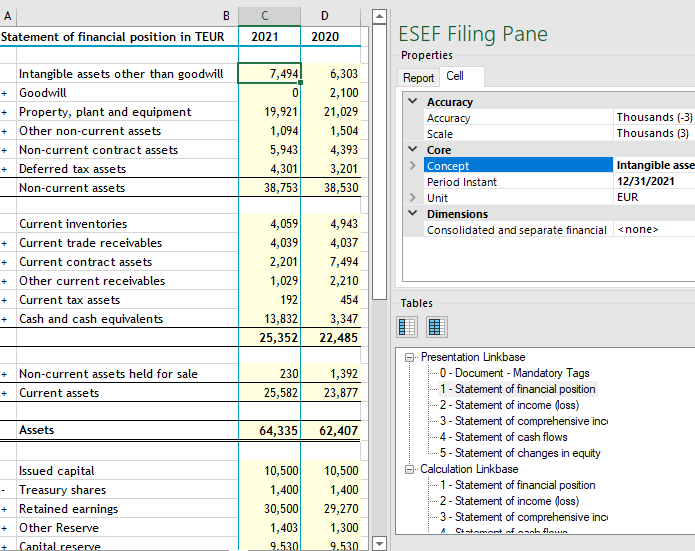 When creating your report, you can insert all the tables on a single worksheet, or define one table per Excel tab. When you export the report to iXBRL, the worksheets will be combined into one XHTML document for submission.
You can use all the built-in functionality of Excel to add logos, charts, summary tables, and other elements to make your report attractive for human consumption while ensuring the required machine readable data is tagged properly.
Before generating the report, use the Validate button in the Excel ribbon to check it against the associated taxonomies. Any errors are listed with a link to quickly locate and fix the affected cells in the report.

Once your report is ready and valid, you can generate an iXBRL instance file. To do this, click Export to iXBRL in the add-in ribbon.
Working in Excel removes the mystery from ESEF report creation and makes it easy to focus on supplying the required data.
To get started, learn more about the ESEF XBRL add-in for Excel and download a free, 30-day trial.
Reporting Checks
For developers working with ESEF XBRL, it's important to be able to validate documents for conformance with the ESEF Reporting Manual.
XMLSpy offers comprehensive XBRL support, including ESEF Reporting Manual checks during iXBRL validation. Any errors detected are displayed with granular details, including a link to the error in the document and links to the relevant specification.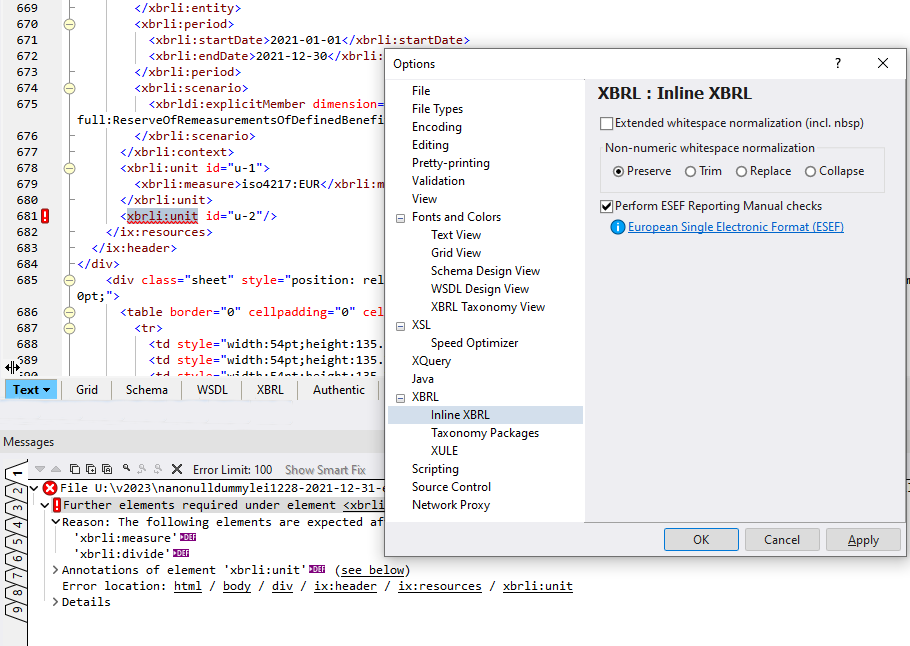 Automate ESEF Validation
For checking large numbers of reports or implementing server-based automated validation processes as part of a reporting workflow, organizations can utilize RaptorXML Server. RaptorXML Server supports a large number of XBRL standards for high-performance validation and processing, including ESEF.
Get Started Working with ESEF XBRL
Learn more about Altova XBRL tools and download a free trial of the ESEF XBRL add-in for Excel, XMLSpy, and RaptorXML Server.