A recent mandate from the OECD called on large, multinational companies to report financials annually for each country in which they do business to their local tax authority. The OECD specified that this detailed Country by Country (CbC) Report be filed in an XML document according to their reporting schema. But for tax departments that work largely in Excel or other accounting software, this presented a significant stumbling block – and companies found themselves scrambling to meet the requirements by the deadline.
What was needed is a way to automatically generate valid, properly formatted CbC XML reports based on existing data. Altova created the Country by Country Reporting Solution to do just that, either based on manually entered data or figures imported directly from Excel. Let's take a look at how it works.
 
Altova CbC Reporting Solution
The Altova CbC Reporting Solution makes it easy for non-technical business users to automatically generate XML reports for filing with their tax authorities. Advantages of the solution include:
Created based on Altova's 20+ years of experience in the XML field
Built-in data validation and error flagging at multiple steps
Easy for non-technical users to operate
Automatically generates valid CbC report in XML
Accepts manually entered data or uploaded Excel data
Includes Excel template for defining recurrent reporting
Generation of CbC correction reports
Solution is installed in customer's IT infrastructure – sensitive data remains internal
No black box: customer can access and review actual XML report, if desired
Creating the CbC Report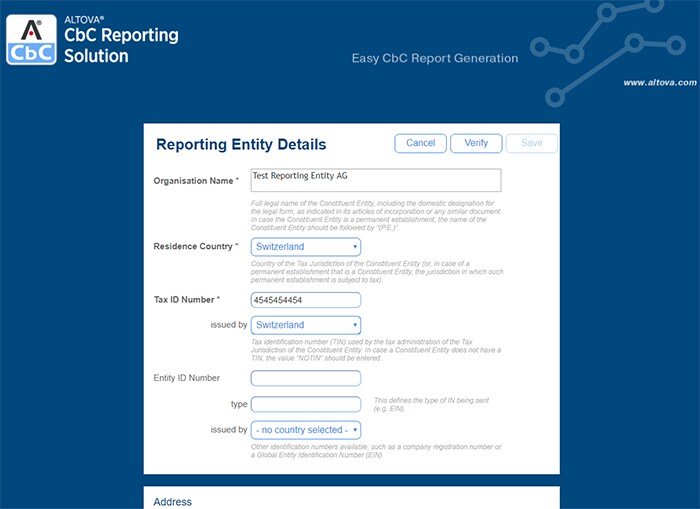 The CbC Reporting Solution guides users as they enter information with descriptions of each field, required fields highlighted, and drop-down menus populated with valid entries. Once you've entered the Organization details, you can create a new report or view existing reports that your company has previously saved.
Users can choose to enter data manually. Or, since many organizations already have this information in an Excel format, the solution provides an Excel template you can download for importing the data. This option is especially helpful for large multinationals with several reporting entities.
Let's look at manual CbC data entry first: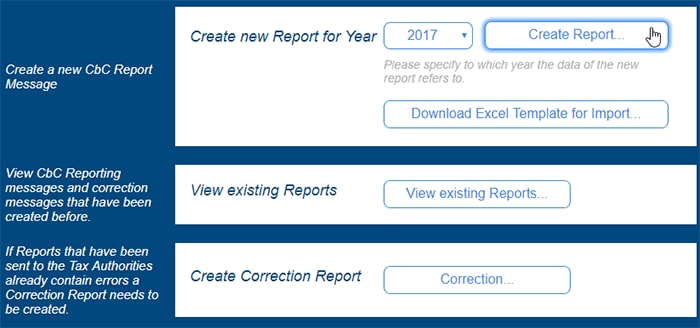 The CbC Reporting Solution has a user-friendly interface that provides guidance to the user throughout the process.
Separate tabs for entering Message Information, Reporting Entity, Report Data, and Additional Information allow for quick navigation and understanding. Prefilled options and data-entry helpers are provided wherever possible.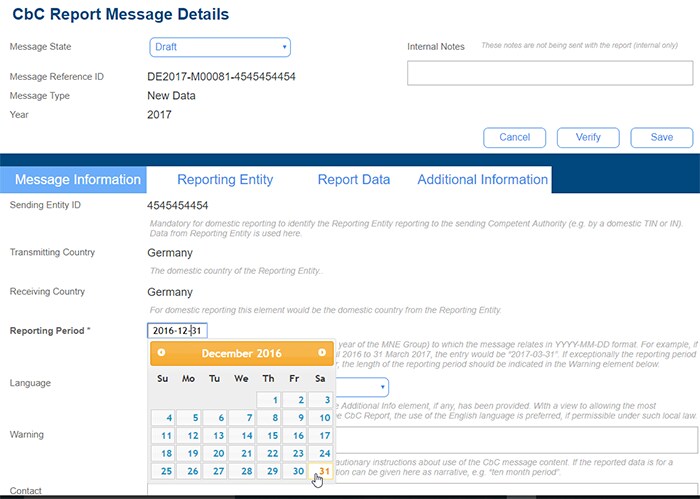 On the Report Data tab, the user enters the list of countries where their organization has a business presence, along with the corresponding data, as well as data about each subsidiary company in each country. They simply click the "Add Country" button as many times as required.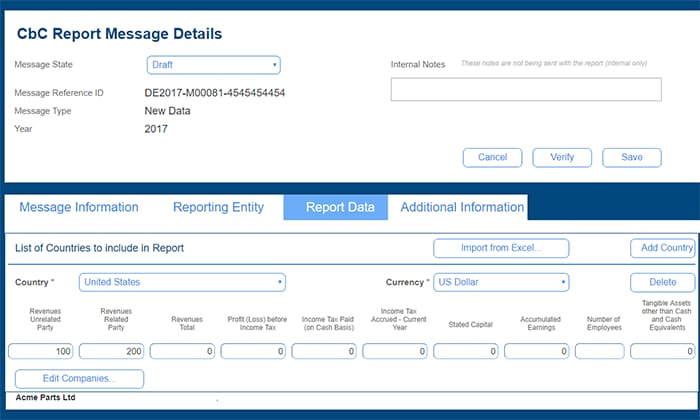 The Verify button allows users to check that information is valid at any time during the entry process, helping them identify and address errors immediately.

When data entry is complete, the user can save the report and click Existing Reports for more options, including generating the XML CbC report based on the entered data.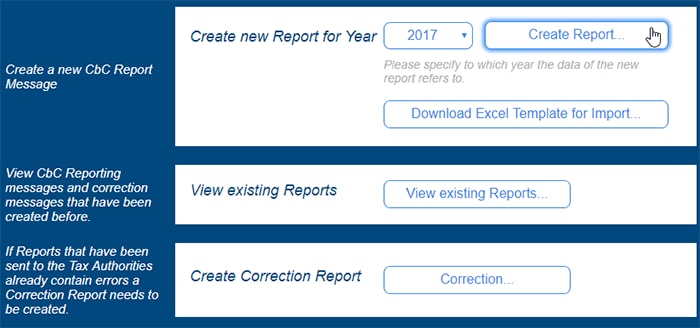 Once it's generated, the XML file can be saved for filing. The user can also open it – either in an XML editor such as XMLSpy or in Notepad – if desired, to explore the generated XML.
Generate CbC XML from Excel
As noted above, companies or tax preparers also have the option to prepare report data in an Excel file – which is likely where they already have this data – using the CbC Reporting Excel template.

The Excel template includes some built-in data validation functionality, as well as entry helpers that speed data entry.

It's also easy to link the fields from a company's existing Excel documents to the template, instead of entering the fields manually. This way, typing errors are prevented, and the template data will be updated automatically with any change in the source data.
When data is complete, the user can save the spreadsheet as XML Data (*.xml) and import the resulting XML file to the Report Data tab using the Import from Excel button.
Data Remains In-House
Because companies install the Altova CbC Reporting Solution in-house, all sensitive data remains on the client premises or within bounds of its IT infrastructure during report creation.
CBC Reporting Demo
Check out this quick video that demonstrates how the CBC Reporting Solution works:
Try it Free for 30 Days
Try the CbC Reporting Solution for yourself by starting a free, 30-day trial in the Altova Cloud. It takes only a moment to create a secure Altova Cloud account and start a free, 30-day subscription to the CbC Reporting App. The Altova Cloud gives you immediate access without needing to download software or enter a license.
You may contact us with questions at cbc-reporting@altova.com
Powered by MapForce & MobileTogether
Altova created the CbC Reporting Solution using the powerful XML and Excel data integration capabilities of MapForce combined with the enterprise app development tools in MobileTogether.