Manage Your Contracts in the Cloud
Organizations of all types and sizes are faced with the challenge of storing and managing contracts in a paperless world. Locked file cabinets have been replaced by network storage folders that quickly become unorganized and don't always provide the appropriate level of access control and security.
Customers have turned to digital contract management solutions and indeed there are many on the market. After our own search for a product that was easy to use, secure, and readily adapted to our business, we found that the field came up short. So we built our own.
Introducing Altova ContractManager – a secure, cloud-based contract management app that's feature rich, highly-customizable, and affordable for firms of any size. Let's take a look at how Altova ContractManager checks all the boxes.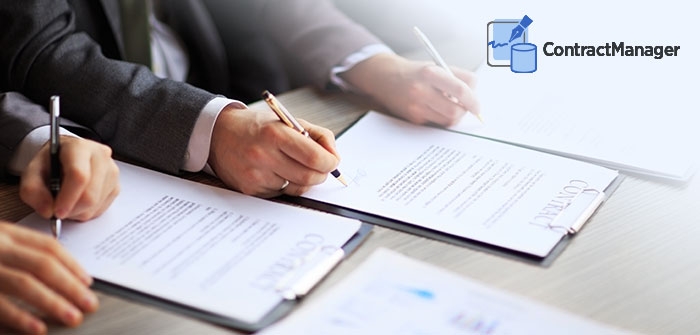 Why Altova ContractManager?
Choosing a centralized contract repository that all stake holders can access securely in the cloud has numerous benefits, from time savings to more efficient management of related contracts and important dates. ContractManager makes this all possible while being completely customizable – and you don't have to be a database administrator to make the changes your company needs.
Even without any configuration or customization, Altova ContractManager is a turn-key solution that provides all the tools you need for efficient contract management:
Centralized contract management – no more contracts lost in folders or shared drives
Secure file storage for all your contracts
Granular role and group-based permissions to control access to confidential information
Automatic reminders for important review dates and deadlines
Search tools to find contract documents and details instantly
Full audit log and change tracking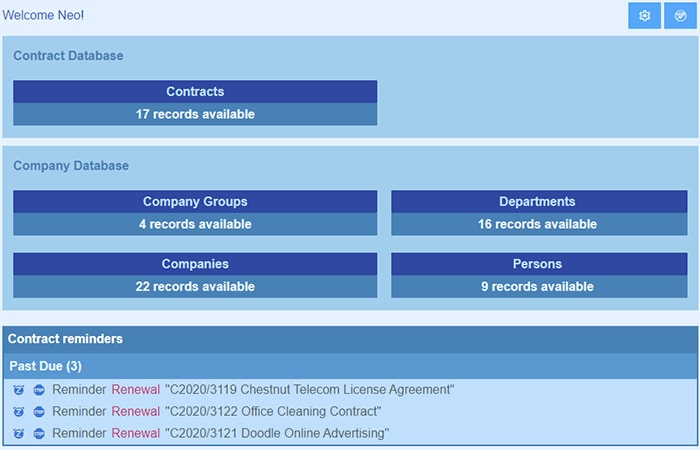 These tools make it easy to reach your contract management goals:
Manage contracts in a single, secure location
Never miss a contract deadline again
Find documents and details instantly
Customize the app to match your firm's business
Save Time and Avoid Risks
For end users, data entry is performed via easy-to-navigate containers and forms. Forms and fields include enumerations of allowed values, customizable validation of data and business rules, as well as hints to help you add valid data.
Built in, customizable reminders keep you on track for meeting deadlines and granular permissions ensure secure access to data.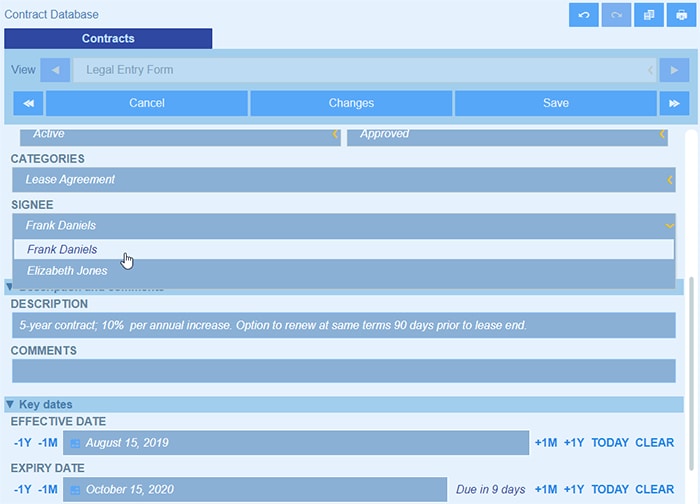 Customize Your ContractManager
As noted, you can get started right away with the default database and containers included in the app. Or, the administrator for your ContractManager account can easily modify the structure of the database, as well as the forms for data entry and viewing, to match the requirements of your organization.
All configurations are done via a straightforward visual interface, and, unlike a classical database system, the admin can even change the hierarchy of containers. What's more: fields, forms, and even the database structure can be added, changed, or deleted at any time by the administrator – even if records already exist in the database.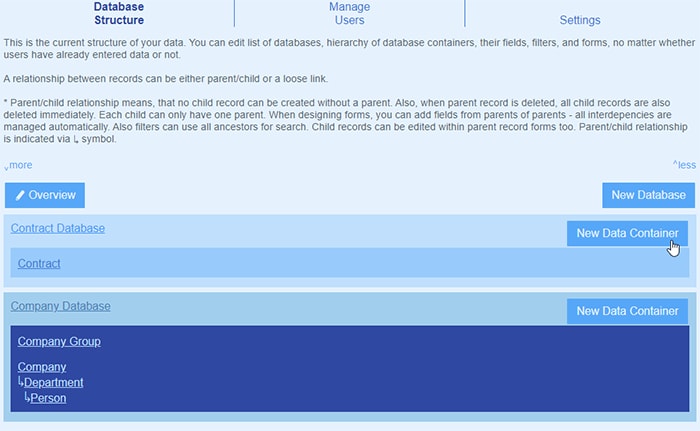 The admin interface is also where roles and user privileges can be defined to ensure the right people have access to the appropriate information.
Make it Fun!
Maybe it's a stretch to put "fun" and contract management in the same sentence – but you can switch up the appearance of your ContractManager interface to match your mood. Both administrators and end users have the option to choose from a variety of included display themes to customize the look of the Altova ContractManager interface.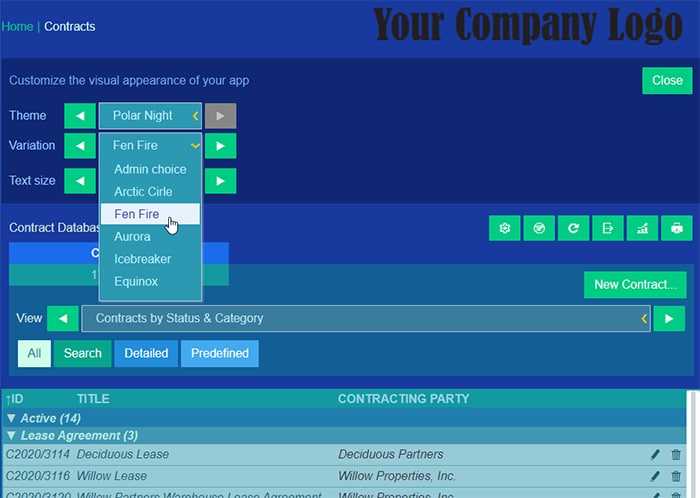 Get Started in Seconds
Unlike other products, you won't have to sit through a sales demo, enter a credit card, or wade through complicated training materials to get started with Altova ContractManager.
It takes only a moment to create a secure Altova Cloud account and start a free, 30-day subscription to ContractManager. The Altova Cloud gives you immediate access without needing to download software or enter a license.
Affordable Pricing
When your company is ready to purchase a subscription, Altova ContractManager pricing starts at $25/month per user ($299 billed annually). Monthly subscriptions will also be available at $29/month per user. This is hundreds less per year than competing solutions! Users can start the purchasing process by clicking Manage Subscription in the Altova Cloud portal.
---