Last winter we launched Company Financials – a nifty little app that lets you view and graph financial reports for US public companies based on the XBRL data that they have to file with the SEC. Now we're proud to announce the new Company Financials 2.2 app, which adds tons of new features, including the ability to compare financial data for 2 US public companies side-by-side!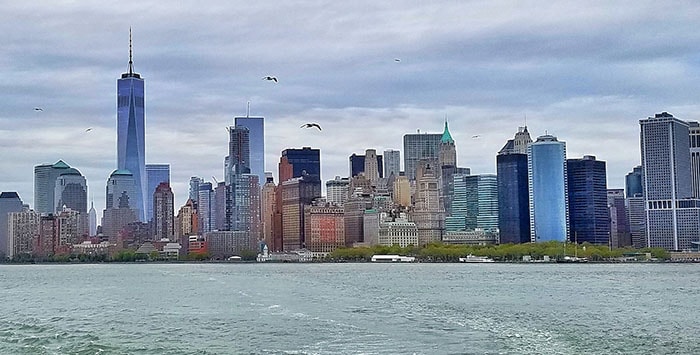 So when you're out on the boat this summer, looking back at Lower Manhattan and Wall Street, you can still analyze financial reports and do an in-depth comparison of financial data between two companies – just by typing their stock tickers into your smartphone or tablet.
US public companies are required to file their company financials – including income statements, balance sheets, and cash flow statements – quarterly and annually with the U.S. Securities and Exchange Commission (SEC). These reports provide a snapshot of the financial health of a corporation, and any investor interested in fundamental analysis typically examines them in great detail to perform financial analysis, including the calculation of important financial ratios.
You can, of course, get the same kind of data from hugely expensive Bloomberg terminals, but the data being published by the SEC is the same data and is available for free, so you can just access it via our app on the go.
What's New in Company Financials 2.2
New function to compare financials between two companies
Financial report data can be compared in graphs and tables
New function to hide certain lines/bars in comparison graph
Step through comparison data quarter by quarter or year by year
If financial periods don't align, different periods can be compared
New function to switch from single company to comparison view and back
Improved user interface with better font size selection, color palette picker
Improved company name search function via looking glass button
Automatically suggest name search if ticker is not found
These features have been added to make the app even more useful, having been implemented in direct response to customer and industry inquiries, as well as discussions with successful investors.
Compare Financial Data
When you compare two companies, a graph displays the data for each company in two different color palettes that can be fully customized. You can compare Income Statement data, Balance Sheet data, Cash Flow Statement data, and various financial ratios.
In addition, the last quarter or last year for both companies is displayed in a table below the chart, and you can step through individual quarters or years in sync between both companies. Or, you can compare one quarter of one company with a totally different quarter of the other company, if their fiscal years don't align and you are interested, for example, in seasonal effects on their profit margins or return on assets.
Here is a screenshot of the Windows version of the app running on a Surface Pro 4 tablet: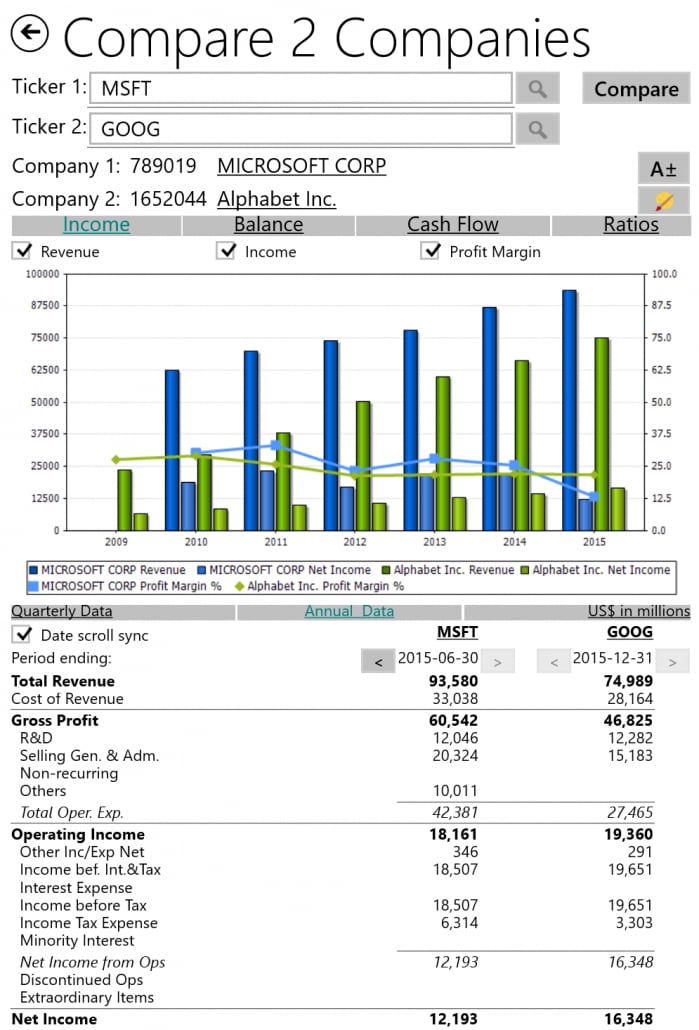 To allow for a flexible display on all screen sizes and orientations, the font size can be fully customized and the layout will automatically shift depending on the orientation and size of the display. So you can run the same app on a tiny old-school iPhone screen, as well as on bigger phones, such as the iPhone 6+, the Samsung Galaxy S7 Edge, and on all tablets – and even laptops and desktops.
Just like in the previous version, you can search by company name or stock ticker symbol and view the financial reports of the last four quarters or last four years, as well as charts of annual or quarterly data reaching back several years. In addition, various financial ratios, such as current ratio, quick ratio, cash ratio, gross profit margin, operating profit margin, return on assets, return on equity, debt/equity ratio, capitalization ratio, asset turnover, free cash flow, and many others, are calculated and displayed for the last four quarters or last four years, according to the selected view.
This makes the Company Financials app very useful for educational purposes, such as business school programs in the area of accounting, finance, or corporate management.
The free Company Financials App 2.2 is immediately available in the respective app stores:
This cross-platform mobile app for Android, iOS, and Windows was developed using Altova MobileTogether – a powerful framework for building data-centric mobile apps for all devices.
New company filings are processed and added to the database every night and will be available in this app on the next morning. For additional information about how the data is downloaded, analyzed, prepared, and aggregated using Altova RaptorXML+XBRL Server, as well as how you can easily build your own apps utilizing this data, please see this recent blog post.
Altova is a member of XBRL.US and the XBRL US Center for Data Quality to support the Data Quality Committee's initiative to address the public's concerns about the quality and usability of XBRL financial data filed with the SEC.