US public companies are required to file their company financials – including income statements, balance sheets, and cash flow statements – quarterly and annually with the U.S. Securities and Exchange Commission (SEC). These financial reports provide a snapshot of the financial health of a corporation and any investor interested in fundamental analysis will typically be looking at these reports in great detail and performing financial analysis, including the calculation of important financial ratios.
We have just published the free Company Financials App for iOS, Android, Windows Phone, and Windows 8.1/10 that lets you explore and analyze US public company high-level financial reports automatically extracted from the XBRL filings in the SEC's EDGAR database. You can search by company name or stock ticker symbol and view the financial reports of the last four quarters or last four years, as well as charts of annual or quarterly data reaching back several years.
In addition, various financial ratios, such as current ratio, quick ratio, cash ratio, gross profit margin, operating profit margin, return on assets, return on equity, debt/equity ratio, capitalization ratio, asset turnover, free cash flow, and many others, are calculated and displayed for the last four quarters or last four years. This makes the Company Financials app very useful for education purposes, such as business school programs in the area of accounting, finance, or corporate management.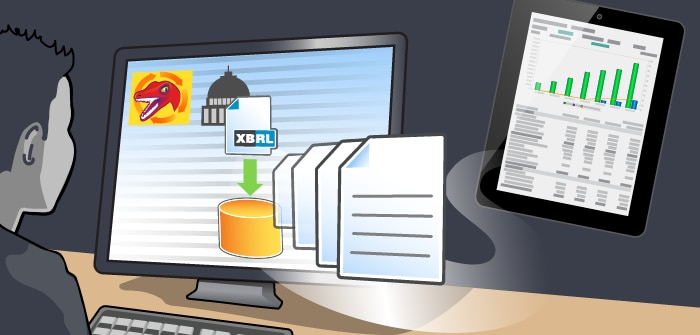 The Company Financials App is immediately available in the respective app stores and is designed for smartphones and tablets, as well as laptop and desktop PCs:
This cross-platform mobile app for Android, iOS, and Windows was developed using Altova MobileTogether 2.0 – a powerful framework for building data-centric mobile apps.
New company filings are processed and added to the database every night and will be available in this app on the next morning. For additional information about how the data was downloaded, analyzed, prepared, and aggregated using Altova RaptorXML+XBRL Server, as well as how you can easily build your own apps utilizing this data, please see our recent blog post.
Altova is a member of XBRL.US and the XBRL US Center for Data Quality to support the Data Quality Committee's initiative to address the public's concerns about the quality and usability of XBRL financial data filed with the SEC.